Heathrow: Minister 'hopes' for decision by end of July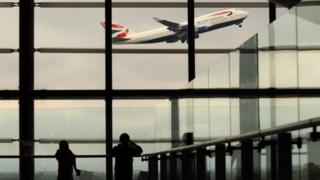 The Transport Secretary has said he "very much hopes" a decision on where to build a new runway in southern England will be taken by late July.
Patrick McLoughlin was giving evidence to Parliament's Transport Committee.
He also denied the delay in making the decision had anything to do with May's London mayoral election - where the anti-Heathrow expansion Zac Goldsmith is standing for the Conservatives.
Mr McLoughlin insisted the delay was based on environmental concerns.
Last year, the Davies Commission, looking at how to increase airport capacity in the south east of England, recommended the building of a third runway at Heathrow rather than a second one at Gatwick.
But Conservative MP for Richmond Park and North Kensington, and candidate for London Mayor, Zac Goldsmith has long pledged to resign as an MP and force a by-election if the Conservatives decided to go ahead with the airport's enlargement.
Asked by Transport Committee chair, Louise Ellman whether the delay in making a decision on where to build a new runway had anything to do with the mayoral election in May, Mr McLoughlin said: "We knew when the mayoral election was going to be when we said we hoped to take a decision, when we hoped to take a decision.
"So I think to somehow now say the only reason we're not taking a decision is because of the mayoral election is not really credible. But I know that's what some people want to interpret on that."
The transport secretary said it was in fact Sir Howard Davies' own evidence to the Environmental Audit Committee late last year that caused the government to postpone its decision on where to build the runway.
Mr McLoughlin said Sir Howard's evidence to the Committee on environmental impact was "an issue" and did cause the government "to pause".
He added that the mayoral election and potential referendum on the UK's membership of the EU could impact on the timing of any announcement on airport expansion but that he "very much hoped" the decision would be made before the Summer recess at the end of July.