Labour launches immigration 'listening tour'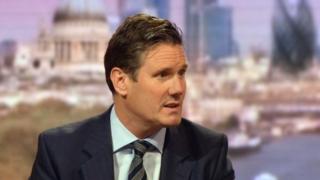 The Labour Party is launching a "listening tour" of the UK to help re-write its immigration policy.
MP Sir Keir Starmer will spend three months talking to communities, businesses and trade unionists.
He will launch the tour later at a public meeting Dudley, in the West Midlands, with shadow home secretary Andy Burnham.
Mr Burnham said Labour "needs a plan to win back the voters we failed to convince on immigration".
Sir Keir, the former director of public prosecutions who became a Labour MP last year, said: "This is not intended to be an easy or comfortable exercise.
"It is a genuine attempt to listen to and learn from the public on the issues of migration and refugees."