Corbyn aide Neale Coleman quits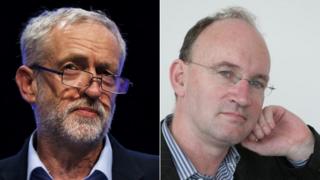 A key member of Jeremy Corbyn's inner circle resigned because of the "pressures and demands of the job on his family life", Labour says.
The party said Neale Coleman, executive director of policy and rebuttal, remained in talks about working with Mr Corbyn "in an advisory and support role".
Mr Coleman previously worked for Ken Livingstone and Boris Johnson during their terms as London mayor.
He joined the Corbyn team in September.
At the time, Mr Livingstone, an ally of Mr Corbyn, said he was "delighted" to learn of the appointment, describing Mr Coleman as "the mastermind behind the Olympics".
"He is a brilliant ideas man who will bring well-thought-out, intelligent policies to the table," said the ex-mayor.
After his departure was confirmed, Labour MP and Corbyn critic Graham Jones described Mr Coleman as "a good guy, competent and the one good appointment Jeremy made", while another MP, Kate Hoey, tweeted that he would be a "big loss".