Captain Kirk actor William Shatner backs Commons space debate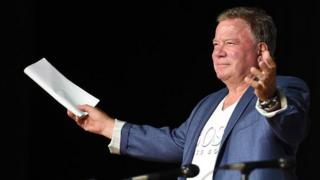 Star Trek actor William Shatner endorsed a House of Commons debate by MPs on space exploration.
The actor, who played Captain Kirk in the science fiction series, wrote a message of support for the discussion.
SNP MP Phillippa Whitford read out the message from Mr Shatner at the start of the debate.
Mr Shatner was quoted as saying: "Space is one of the last known frontiers, mostly untouched by mankind in his politics."
"In opening a debate on this subject, it is is my hope that you take the tenets of Star Trek's prime directive to universally and peacefully share in the exploration of it. I wish you all a wonderful debate. My best, Bill."
The debate also received a message of support on Twitter from another Star Trek actor, George Takei, who played USS Enterprise helmsman Sulu.
Ms Whitford told the Commons the space industry was "a real industry, a multi-billion pound industry". She called on ministers "to boldly go where no minister has gone before". She believed in the past the UK had shied away saying "space is for other people, the big boys - Russia, China, US but not us".
Ms Whitford also remarked that British astronaut Tim Peake was not the first British astronaut to go to space, that honour had already gone to Helen Sharman who went to space in 1991.
The debate came just one day ahead of Tim Peake's space walk and in response to the government publishing their national space policy. The policy set out the UK's aims to become "the European hub for commercial spaceflight and related space sector technologies" in order to create new jobs, businesses and a better understanding of space. Most MPs who attended were SNP members, with few MPs from others parties taking part.
Star Wars
The MPs debated where a spaceport could be based in the UK, with Cornwall, and areas of Scotland, Northern Ireland and Wales all coming out as contenders.
Alan Brown, MP for Kilmarnock and Loudoun, elicited calls of "shame" from other MPs after admitting he had not watched the early Star Wars movies. He said in the past he had objected to spending money on vanity projects rather than working to improve social justice but believed a thriving space industry could bring significant benefits to the UK population.
Carol Monaghan, MP for Glasgow North West, said she had been asked if the debate was "really that important". She said she believed it was "crucial" as the space and defence industries were the only ones that really pushed innovation, producing spin off technologies and products such as prosthetic limbs, foam mattresses and artificial satellites.
Yvonne Fovargue, shadow business, innovation and skills minister, welcomed the debate but criticised the "ad hoc" nature of government funding which she said hindered strategic planning. She highlighted how space industry research had brought benefits to disaster relief, medicine and transport.
The debate ended with Business Minister George Freeman calling the UK space sector "an undoubted and massive success story". He said the government's national space policy demonstrated a long term commitment to the industry, but he said he wouldn't "pre-empt" the process of selecting a spaceport adding it would be done "fairly" and "openly".