MP Michael Dugher rejects Jeremy Corbyn reshuffle claims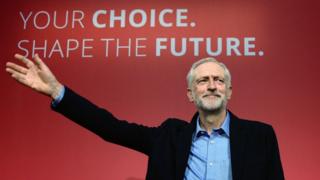 Shadow culture secretary Michael Dugher has rejected claims Jeremy Corbyn is to carry out a reshuffle of his shadow cabinet to clear out dissenting voices.
Rumours of reshuffles "swirl around in politics" in all parties - but "over-enthusiastic aides" and ambitious MPs were often the source, he said.
He said removing critics from his front bench would be "inconsistent" with Mr Corbyn's pledge to allow more debate.
A number of Labour MPs have warned their leader against changing his team.
Mr Dugher is among high-profile figures who it has been reported could lose his post in a so-called "revenge reshuffle".
Others reportedly include shadow foreign secretary Hilary Benn, defence secretary Maria Eagle and chief whip Dame Rosie Winterton.
Both Mr Benn and Ms Eagle voted in opposition to their leader in favour of the UK bombing the so-called Islamic State in Syria, while Dame Rosie abstained in the free vote.
'Minister for paper clips'
However, Mr Dugher dismissed the reports as speculation.
"The reason why I don't see it happening is that I think it would be inconsistent with what Jeremy has talked about since he got the leadership, which is about room for a little dissent, about having debate," he told BBC Radio 5 live's John Pienaar.
"These things are always discussed, you get sometimes over-enthusiastic aides sort of nudging a leader in one particular direction. There's always ambitious colleagues that sort of spy that golden opportunity to be the shadow secretary of state for paper clips.
"These thing swirl around in politics, not just in the Labour party, in all the parties."
---
Analysis, by BBC political correspondent Chris Mason
The shadow cabinet reshuffle widely expected this week will be looked at through a single prism: will Jeremy Corbyn use it as an opportunity to mould a top team more in his own image?
The shadow culture secretary Michael Dugher insisted on Sunday that the Labour party is "a broad church, not a religious cult".
But there are questions about whether it is sustainable for senior figures such as the shadow foreign secretary Hilary Benn to disagree with the leader on foreign policy, such as bombing Syria.
The influential backbencher Jon Cruddas has told the BBC the party is suffering a "profound crisis".
But he sympathised with the leadership's desire for a reshuffle. "We have to have unity at the top of the party on the outstanding issues of our time," he said.
---
MPs across the Labour Party needed to focus instead on "getting after the Tories" and demonstrating to voters that they offered a compelling alternative, he said.
Mr Corbyn has faced some criticism for allowing rumours of an imminent shadow cabinet shake-up to distract from the task of opposing the Conservatives.
'Waste of time'
The Observer newspaper reported that Mr Benn could be offered another shadow cabinet post - which would be viewed as a demotion.
It also suggested an alternative brief would be made available to Ms Eagle, who has clashed with the leader over the retention of the Trident nuclear deterrent system.
Such moves could spark a wave of resignations from other shadow cabinet ministers in protest, it claimed.
A number of Labour figures have warned Mr Corbyn against a shake-up of his front bench.
Writing in the Observer, Stephen Kinnock, the son of former leader Lord Kinnock, said it would be a "waste of time and energy".
"A reshuffle would simply leave people confused about what this fabled 'new kind of politics' is all about," he said.
'Clones and drones'
Jon Ashworth, shadow minister without portfolio, said the party must focus on attacking the Tories instead of "internal squabbles".
Wes Streeting, who was elected MP for Ilford North in 2015, said "damaging briefing from the top of the party" had distracted it from challenging the Conservatives over their policy on flood defences.
Another MP newly elected in 2015, Neil Coyle, said: "The idea that Corbyn must only include clones and drones in the shadow cabinet is farcical."