More UK support for Nigerian forces fighting Boko Haram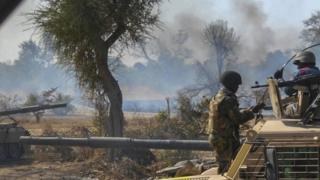 The UK is to step up support to the Nigerian armed forces to tackle militant Islamist group Boko Haram.
It will include a specialist team to help deal with improvised explosive devices and more medical training.
The move was announced by UK Defence Secretary Michael Fallon on a visit to Nigeria to see President Muhammadu Buhari.
Boko Haram is fighting to overthrow the Nigerian government and create an Islamic state in West Africa.
Mr Fallon said: "Boko Haram is a brutal organisation that has murdered and kidnapped innocent civilians. We stand united with Nigeria in its efforts to defeat them.
"Stepping up our training efforts will help support the Armed Forces of Nigeria for crucial counter-insurgency operations."
The UK has vowed to more than double the number of British personnel deployed on training tasks in Nigeria in the coming year.
Up to 300 people are expected to provide support during 2016, including a new RAF training team to help the Nigerian Air Force improve airfield defence and counter insurgency operations.
The UK ministry of defence said about 1,000 Nigerian military personnel had benefited from counter-insurgency training in north-east Nigeria.
Boko Haram has been waging an insurgency since 2009 and is seeking to create an Islamist state in north-eastern Nigeria. The conflict has led to about 20,000 deaths.
President Buhari won the country's March general election after pledging to destroy the group and to rescue more than 200 schoolgirls kidnapped by the extremists.
---
Boko Haram at a glance
Founded in 2002, initially focused on opposing Western-style education - Boko Haram means "Western education is forbidden" in the Hausa language
Launched military operations in 2009
Thousands killed, mostly in north-eastern Nigeria, hundreds abducted, including at least 200 schoolgirls
Joined so-called Islamic State, now calls itself IS's "West African province"
Seized large area in north-east, where it declared caliphate
Regional force has retaken most territory this year
Using football to tackle Boko Haram