Senior Conservatives back Lord Feldman in bullying row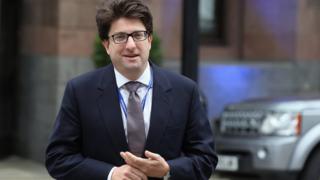 Senior Tories have rallied round party chairman Lord Feldman who is facing calls to quit over claims of bullying in the party's youth wing.
Lord Feldman is alleged to have been handed a document in 2010 which named Tory campaigner Mark Clarke.
Mr Clarke was recently expelled from the party over bullying claims, which he denies.
Tory sources say Lord Feldman may never have been given the dossier or been told of the seriousness of its claims.
Former Conservative Party Treasurer Michael Spencer also described Lord Feldman as "a man of considerable integrity and professionalism".
'Questions to answer'
Ray Johnson, the father of the young Conservative activist found dead, Elliot Johnson, has called for Lord Feldman to resign as party chairman.
He told Tuesday's Newsnight: "If Lord Feldman and CCHQ were fully aware of allegations of bullying being made as long ago as five years and they didn't act upon it, then it just confirms my view that they really should have taken action against bullies in the first place and failed to do so.
"They failed to protect my son and they failed to protect many other young activists and they should stand up and take responsibility for it."
Elliot Johnson, a 21-year-old member of Conservative Future, the Tory youth wing, had made allegations about bullying in the organisation. His death, in September, sparked an investigation into the claims.
Mr Johnson said he had received a "bland" letter from Lord Feldman about his son's death - and he criticised the Conservative Party for the way it had treated his family.
BBC Newsnight reported that the 2010 dossier was given to Lord Feldman by Ben Howlett, who is now a Tory MP but at the time was launching a campaign against alleged widespread bullying and intimidation in Conservative Future, the Tory youth wing he headed.
In a statement, Lord Feldman said: "I was wholly unaware of allegations of bullying and inappropriate sexual conduct by Mr Clarke prior to August 2015. Such behaviour is abhorrent to me and had this been brought to my attention I would have taken immediate action to investigate, as I have done since I received the complaint in August 2015."
Jonathan Ashworth, Labour's shadow minister without portfolio, said news of the dossier was "worrying" and the Tory chairman, a close friend of Prime Minister David Cameron, "still has very big questions to answer".
---
More on this story:
Lord Feldman: The key questions
Tory chair 'given bullying file in 2010'
Memo warned Tory bully 'dangerous'
Ministers pull out of conference amid bullying scandal
Grant Shapps quits amid Tory bullying claims
Listen: Mark Clarke profile for Radio 4
Tory 'bully' was backed by party bosses
Tories 'failed to act' on 'institutionalised bullying'
Watch: Newsnight investigation into Tory bullying allegations