Key quotes: David Cameron v Donald Tusk on UK's EU reform hopes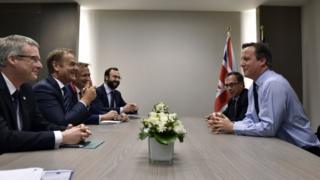 European Council President Donald Tusk has written to EU leaders with an assessment of the four main areas of reform to the European Union that the UK is seeking to achieve. Here is a look at what David Cameron says he wants, and what Mr Tusk thinks of those demands - in their own words...
1. Protection of non-euro countries
---
In a letter to Mr Tusk formally setting out the UK's EU reform demands, David Cameron had this to say:
"We do not want to stand in the way of measures Eurozone countries decide to take to secure the long-term future of their currency. But we want to make sure that these changes will respect the integrity of the Single Market, and the legitimate interests of non-Euro members. Britain is not seeking a new opt-out for the UK in this area... nor are we looking for a veto... What we seek are legally binding principles that safeguard the operation of the Union for all 28 member states - and a safeguard mechanism to ensure these principles are respected and enforced. "
Donald Tusk said, in his letter to EU leaders:
"On the relations between the euro ins and outs we could search for an agreement around a set of principles that will ensure the possibility for the euro area to develop further and be efficient while avoiding any kind of discrimination vis-à-vis member states that are not yet, or, in some cases, will not be part of the euro. We are also looking into the possibility of a mechanism that will support these principles by allowing member States that are not in the euro the opportunity to raise concerns, and have them heard, if they feel that these principles are not being followed, without this turning into a veto right."
2. Competitiveness
---
David Cameron has said the "burden from existing regulation" in the EU "is still too high", and the UK "would like to see a target to cut the total burden on business. The EU should also do more to fulfil its commitment to the free flow of capital, goods and services. The United Kingdom believes we should bring together all the different proposals, promises and agreements on the single market, on trade, and on cutting regulation into a clear long-term commitment to boost the competitiveness and productivity of the European Union and to drive growth and jobs for all."
Here's Donald Tusk's response:
"On competitiveness, there is a very strong determination to promote this objective and to fully use the potential of the internal market in all its components. Everybody agrees on the need to further work on better regulation and on lessening the burdens on business while maintaining high standards. The contribution of trade to growth is also very important in this respect, in particular trade agreements with fast growing parts of the world."
3. Sovereignty
---
"I want to end Britain's obligation to work towards an "ever closer union" as set out in the Treaty," David Cameron said: "It is very important to make clear that this commitment will no longer apply to the United Kingdom. I want to do this in a formal, legally-binding and irreversible way."
His requests also include "to enhance the role of national parliaments, by proposing a new arrangement where groups of national parliaments, acting together, can stop unwanted legislative proposals", adding: "The precise threshold of national parliaments required will be a matter for the negotiation." And he says he wants to see "the EU' s commitments to subsidiarity fully implemented, with clear proposals to achieve that".
Donald Tusk said:
"There is wide agreement that the concept of "ever closer union among the peoples" allows for various paths of integration for different countries. Those that want to deepen integration can move ahead, while respecting the wish of those who do not want to deepen any further. There is also a largely shared view on the importance of the role of national parliaments within the Union as well as strong emphasis on the principle of subsidiarity."
4. Benefit restrictions
---
David Cameron has said the UK needs "to be able to exert greater control on arrivals from inside the EU" and to "crack down on the abuse of free movement". Specifically, he has argued: "We need to go further to reduce the numbers coming here. As I have said previously, we can reduce the flow of people coming from within the EU by reducing the draw that our welfare system can exert across Europe. So we have proposed that people coming to Britain from the EU must live here and contribute for four years before they qualify for in-work benefits or social housing. And that we should end the practice of sending child benefit overseas."
Donald Tusk said:
"The fourth basket on social benefits and the free movement of persons is the most delicate and will require a substantive political debate at our December meeting. While we see good prospects for agreeing on ways to fight abuses and possibly on some reforms related to the export of child benefits, there is presently no consensus on the request that people coming to Britain from the EU must live there and contribute for four years before they qualify for in-work benefits or social housing. This is certainly an issue where we need to hear more from the British Prime Minister and an open debate among ourselves before proceeding further."