Jeremy Corbyn 'must take firmer stand on bullying'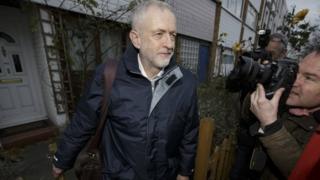 Jeremy Corbyn risks allowing his MPs to be bullied by left-wing activists because he has not clamped down firmly enough on personal abuse, Labour MP Wes Streeting has said.
Emails sent to another Labour MP show how she was warned she would face a campaign for de-selection as a party candidate after announcing that she would back air strikes.
Mr Streeting told BBC Radio 4's Today: "I don't believe that Jeremy Corbyn as an individual somehow encourages the bullying of Labour MPs but I think at the moment he's in danger of permitting it by not showing strong enough leadership, by not clamping down on this."
The Ilford North MP urged his party leader to ensure that none of his team was complicit with bullying messages.
Mr Corbyn has repeatedly condemned personal abuse, and during the Syria debate said bullying had no place in his party.
'Militant'
Labour MP Ann Coffey, who supported military action, was dubbed a "warmonger" and a "red Tory" in emails seen by the programme.
"I think that some of the remarks made by my parliamentary colleagues have been very unfortunate," Ms Coffey said.
"For example remarks made about blood on your hands, that you've got nowhere to hide, and I think that if you have that at the top of party what you have is permission to target MPs."
A Labour source said any evidence of wrongdoing should be passed to the party's National Executive Committee, and rejected any suggestion of complicity in bullying.
Mr Streeting compared Momentum - the grassroots organisation that has grown out of Mr Corbyn's leadership campaign - with the hard-left group Militant that caused chaos within Labour in the 1980s.
"There's no smoke without fire. It looks like Militant, it acts like Militant, it sounds like Militant," he said.
A spokesman for Momentum, James Schneider, said Momentum "is not coordinating abuse in any way shape or form".
"We are very clear as Jeremy is very clear that personal abuse has absolutely no place in politics," he added.