Syria air strikes: Your reaction to the vote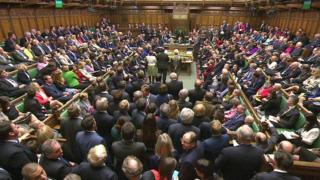 MPs have voted by 397 to 223 to authorise air strikes against so-called Islamic State (IS) targets in Syria.
The government has said bombing raids will begin "as soon as [is] practical".
#SyriaVote has been the top trending topic in the UK on Twitter.
People have been sharing their comments on the outcome of the parliamentary vote.
---
I despair. Look at the facts. Russia bombs Syria. A Russian airliner is blown out of the sky. France bombs Syria. 130 people are massacred in Paris. The UK bombs Syria - well ..... what makes Cameron think it won't happen again here? Steve Chapman, Bradford, UK
---
@adammcdonnell_tweets his disagreement with the result:
---
Sadly tonight proves we, as a nation, have learnt nothing from our past mistakes! ISIS needs dealing with, but the answer is way more complex and involved than yet more misguided half thought out military action. Chris Berry, UK
---
@TheJackWebster tweets that he does not understand why some people are against the government's stance:
---
Not an easy decision, but the right one. Now let's all hope our elected government can get on with the broad diplomatic approach that is necessary, and at the same time make much more than a token towards military action to wipe out this evil movement which threatens us all, from the Middle East to the west of Ireland. The time for talking here in Britain is over. Andrew Mantle, UK
---
Alan from London texted how impressed he was by Labour's Hilary Benn's speech:
---
@brian7mcdeetweets that MPs have been elected to make decisions for the public:
---
@Louisetbqhtweets that military action is the wrong way to solve the problem:
Compiled by Andree Massiah