Lord Feldman: The key questions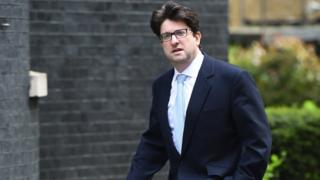 Conservative Party chairman Lord Feldman, a close friend of David Cameron, is under pressure over the party's handling of bullying allegations.
What is meant to have happened?
The allegations relate to former Conservative Party campaigner Mark Clarke, who has been accused of bullying a young activist, Elliott Johnson, who apparently took his own life. Mr Clarke strenuously denies the allegations.
Who is Mark Clarke?
The 38-year-old was once seen as a rising star of the Conservative Party - he appeared alongside nine other Tory hopefuls in a 2008 feature in society magazine Tatler, when he was a parliamentary candidate for Tooting in south London (he lost in 2010 to Labour's Sadiq Khan by 2,524 votes). This has led some newspapers to dub Mr Clarke the Tatler Tory.
When is the alleged bullying meant to have taken place?
Mr Clarke was struck off a list of approved Conservative election candidates after complaints were made about his behaviour during his 2010 campaign in Tooting. However, he succeeded in working his way back into the party machine by launching RoadTrip 2015, an organisation that bussed young volunteers around the country to campaign in target seats. RoadTrip was regarded as a big success by the party but it has now emerged that officials had received complaints about Mr Clarke's behaviour, including allegations of bullying, sexual harassment and attempted blackmail - all of which he firmly denies.
What about Elliott Johnson?
The allegations began to come to light after 21-year-old Elliott Johnson, one of the RoadTrip activists, apparently took his own life. In one of three notes he left behind, Mr Johnson alleges he had been bullied by Mark Clarke. Mr Johnson was found dead on railway tracks in Bedfordshire on 15 September. He had recently been made redundant by Conservative Way Forward, a right-wing pressure group. In another note, he reportedly speaks of his sense of failure.
Is there a police investigation?
British Transport Police are investigating claims Mr Johnson was being bullied and are interviewing people connected to the case. The force will pass its findings to the coroner, who is due to complete an investigation in March. The force will then decide whether there is a need for any "further action" or criminal charges, it has said.
What action have the Conservatives taken?
Mr Clarke has been banned for life from the Conservative Party and the party has launched an inquiry, which it says will be overseen by an independent lawyer. The law firm Clifford Chance will review the evidence gathered by Tory officials, decide if the inquiry has done enough and recommend disciplinary action.
What do Elliott Johnson's family say?
Mr Johnson's father, Ray, has claimed his son would still be alive if the senior Tory officials had taken the allegations by the young RoadTrip activists seriously and suspended Mr Clarke. He fears the Conservative inquiry will be a cover-up and has called for Lord Feldman to go, if the allegations against him are true.
Who is Lord Feldman?
The Conservative Party chairman - a cabinet-level position with responsibility for organising election campaigns and fundraising. He is also one of David Cameron's closest friends.
How is he connected to this case?
Lord Feldman was one of four officials who agreed to give Mark Clarke a formal role in the Conservative election campaign. One of the four - Grant Shapps - has resigned.
Will he also have to resign?
Pressure is mounting on him, after it emerged he was handed a dossier in 2010 containing allegations about a culture of bullying in the Conservative Party's youth wing. Two people involved in producing the document claimed it named Mark Clarke. Lord Feldman has said: "I was wholly unaware of allegations of bullying and inappropriate sexual conduct by Mr Clarke prior to August 2015. Such behaviour is abhorrent to me and had this been brought to my attention I would have taken immediate action to investigate, as I have done since I received the complaint in August 2015." Some senior Tories have defended Lord Feldman, saying it is entirely possible the 2010 dossier crossed his desk without him being aware of its contents and that he has always adhered to the highest standards of behaviour. But the Johnson family and the Conservatives' political opponents will continue to press for answers.
Will things change in the Conservative Party?
Even those Tory MPs who want to keep Lord Feldman in place say the way the party runs its youth wing, Conservative Future, needs a shake-up. It is simply not clear, they argue, to whom a young activist should report incidents of alleged harassment. Big companies would demand higher standards, they say, and so too should the Tories.