Oliver Letwin struggles at Kids Company inquiry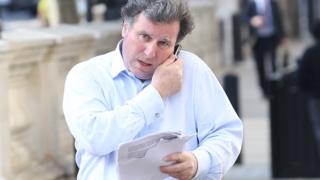 The minister who overruled civil service objections to pay a £3m grant to the now-shut charity Kids Company just days before it collapsed has said that he does not regret his decision. Oliver Letwin says the charity might well have been an "abundant success", but for the fact that it folded suddenly in early August amid a police investigation.
Mr Letwin was putting in an appearance before the Commons public administration committee which left MPs a little baffled. He said he believed that the charity was "grossly" mismanaged, misstated its statistics and needed a leadership clearout. Yet he did not think he made any errors in disbursing £7.3m of public funds to Kids Company since April. This led him into rather odd territory.
For example, Bernard Jenkin, the chair, was incredulous when Mr Letwin said that he always believed "a distinct gap between the claims for the numbers going on in public and what was really happening". He thought that the charity was not helping as many people it was claiming. But, Mr Letwin explained, those published figures were not the basis on which the charity was supported by the government.
Special treatment?
His argument was, at times, also rather peculiar. For example, Mr Letwin attempted to knock back the idea that he was in thrall to Camila Batmanghelidjh, its chief executive. He revealed the details of how he handled what would prove to be Kids Company's last request for more money from the government - a request that came in mid-May from Alan Yentob, its chair of trustees and the BBC's creative director.
The request came just six weeks after receiving what was supposed to be a final grant of £4.265m. He told MPs: "I was sitting in a car in my constituency on the carphone. I took the call from Alan [Yentob] which my office had arranged... He said: 'If you don't give us some extra money now, we will go bust almost immediately.' I said, as I say, 'So be it'. I had made it clear that the £4.265m was the last such grant and I didn't find it hard to make that objective assessment."
But it was not "So be it" to the closure. A few weeks later, Mr Letwin overruled officials to order a further payment of £3m to the charity. When pressed on this point, Mr Letwin said that he only did this on the condition that the charity changed its management and closed some of its services, so he was being tough. Not so. Other charities do not get impromptu £3m bailouts.
The 'gobsmacking' report
Mr Letwin was also pressed on the question of why the charity was given the money when the Cabinet Office was in possession of what someone in the department called a "gobsmacking" interim report, written by PWC. This contained details of bizarre spending - it showed one client was being paid almost £1,000 a week.
The minister knew the charity spent more than £50,000 funding someone described as the child of an Iranian diplomat, including their PhD study. He knew that two young people who have a relative working for a charity received support worth more than £130,000. His answer was that he could only cut off Kids Company if a Charity Commission statutory inquiry were launched. It is not clear why.
Mr Letwin's argument was, at root, that he thought Kids Company did excellent work despite shambolic management. So, he argued, the core of what it did needed to preserved, even if the management did not. But he did not give a good explanation of why he thought it was so valuable.
For example, when pressed on why he was convinced Kids Company deserved such generosity, Mr Letwin said he had visited it in 2001 to 2003 - more than a decade ago. He also brought up work by Methods Consulting, research which had been conducted at the behest of the Department for Education to assess the charity.
But Methods' work seems to have been weak. As the NAO wrote, the "scope of its work did not include looking at the quality of the charity's services". Methods only measured the volume of work - and it got whacky results. For example, the charity was set a target of 1,347 "interventions" in 2013 to 14. According to the NAO, they delivered 30,217. This does not suggest a well-calibrated measure.
Mr Letwin's view about its safeguarding practice was also debatable. He was wrong to claim Kids Company was not unusual, for a charity of its size, in not being inspected, regulated or overseen by either Ofsted or a local authority. And Mr Letwin's retort that the staff had been vetted for prior criminal convictions is to miss the point.
As Newsnight and BuzzFeed News reported, there are serious questions about whether it was effective at keeping young people safe.
So how to judge Mr Letwin's performance? The select committee will report in the New Year. The minister did not win them over. He rather confirmed the sense that Kids Company was a well connected charity which threatened ministers with the consequences of its own closure - and Mr Letwin could not make a convincing, positive case for the funding he gave it.
Still, he did manage one thing. The hearing was about him, not his boss, the Prime Minister. Tim Loughton, a former children's minister, told the committee earlier that David Cameron was "mesmerised" by Ms Batmanghelidjh. If that was - as expected - the end of the public administration committee's process, the Prime Minister may have got away with not being dragged into this row.