Ken Livingstone: Timeline of an apology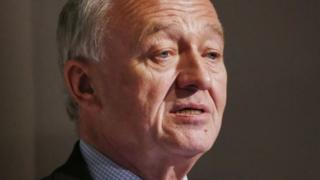 Ken Livingstone's journey from refusing to apologise to Labour shadow minister Kevan Jones over comments about his mental health to an "unreserved" apology took just over three hours - pretty long by modern standards.
Here's how the ex-London mayor held out:
10:51: The Daily Mirror publishes an article in which Ken Livingstone says Kevan Jones - who had questioned Mr Livingstone's ability to lead a review of Labour's defence policy - was "obviously very depressed" and "might need some psychiatric help". Mr Jones is known to have suffered from depression in the past.
11:20: Mr Livingstone refuses to say sorry, telling LBC Mr Jones should "get over it".
11:24: George Galloway stands by Mr Livingstone, saying people are trying to "defang" Labour leader Jeremy Corbyn, as a social media backlash gets under way.
11:29: Mr Livingstone tells the Evening Standard he was unaware of Mr Jones' mental health history, but refuses to retract his remark.
11:36: Jeremy Corbyn's spokesman issues a statement saying Mr Livingstone "should apologise straight away," as the Labour leader is "incredibly concerned that people with mental health problems shouldn't be stigmatised".
12:10: Mr Livingstone stands firm in a BBC interview. "If someone's rude to you, you are rude back," he says. Mr Jones should apologise first, he adds.
11:36 to 12:30: Condemnation and calls for Mr Livingstone to be sacked or resign from his role in the defence review. Former Labour frontbencher Chuka Umunna says the veteran left-winger appears to be spreading prejudice. Mr Livingstone still refuses to apologise.
12:30: A group of Labour MPs, including former ministers, tell Jeremy Corbyn to ring Ken Livingstone and demand he apologises
12:31: Mr Livingstone "sort of" apologises to ITV.
12:34 to 13:25: More condemnation and calls for Mr Livingstone to apologise, including from Labour MP Emma Reynolds, who says his comments are "totally unacceptable".
13:26: Mr Livingstone tells BBC Radio 4's The World at One he's sorry if Mr Jones is upset. Labour MP Pat McFadden says this apology was not genuine.
13:51: Labour deputy leader Tom Watson says Mr Livingstone must apologise and withdraw his comments.
About 14:00: Jeremy Corbyn rings Mr Livingstone
14:02: On Twitter, Mr Livingstone apologises "unreservedly". He says his comments "should not have been made at all, let alone in this context".
15:08: Shadow foreign secretary Hilary Benn welcomes a "full and fulsome" apology from Mr Livingstone, adding that he had caused a "great deal of offence" and he "has now done the right thing".