Why the timing of the EU referendum may depend on who can vote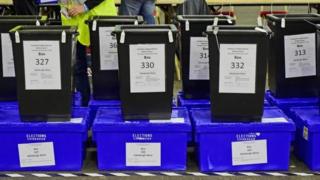 How long does it take to register to vote? On this question may hang the date of the referendum on Britain's membership of the European Union.
Some eurosceptics and election officers claim an expected decision by the House of Lords this week to give 16 and 17 year olds the vote could delay the referendum by up to a year.
But ministers have told me that they believe this to be nonsense and that the process of getting all these teenagers onto the register would not take nearly so long and there would be no need for the referendum to be delayed.
So who is right?
The cause of the uncertainty is the House of Lords. Peers are expected on Wednesday to vote to extend the franchise for the referendum to 16 and 17-year olds. The government opposes this and will try to overturn the defeat when the EU bill returns to the House of Commons next month.
My colleague Allegra Stratton at Newsnight reported earlier this month that the Electoral Commission reckons the process of getting 1.5 million young people onto the referendum register could take up to a year.
Scottish precedent
The Association of Electoral Administrators says the best precedent is the Scotland independence referendum, where election officers had a year to get 16 and 17 year olds registered. At a pinch, they say officials could do the job in nine months.
Their argument is that it takes time to get new people onto the register. MPs would have to agree new regulations. Registration forms would have to be changed. The teenagers would have to be identified. They would have to be informed about how to register.
A public information campaign would have to be undertaken. Schools and youth organisations would have to be geared up to help in the process. Under the new individual voter registration scheme, parents would no longer be able register their children.
Perhaps most importantly, there will be the tricky issue of what are called "attainers". These are the young people who are 14 or 15 now who might become old enough to take part in a referendum which could theoretically take place up to December 31 2017.
So it is not just 16 and 17 year olds, it is 14 and 15 year olds who also need to be identified. There are two difficulties with this. First, many of these young teenagers will not have national insurance numbers. Most people get a national insurance number only when they turn 16.
And yet you need a national insurance number to register to vote. It is the key piece of information you need along with your date of birth.
Second, young teenagers are by definition under age and a whole range of data protection red tape applies to minors that does not normally affect adults. This was a big issue that election officers had to cope with ahead of the Scotland referendum.
Election officers also note that their staff will be pretty busy next year bedding down the government's new individual registration process and coping with huge elections in May for devolved bodies in Scotland, Wales and Northern Ireland, the London mayoralty and the usual host of local authority elections.
But the government is now beginning to push back against this analysis. I have spoken to several ministers who deny that it would take anything like that amount of time for young people to register. They say that registering to vote is much easier than some people think. The government says it should take people "around five minutes".
Yes, you might need to spend a little time rummaging around in a drawer for your national insurance number. And yes, if you are not particularly adept at using computers, you could instead get a friend to print off a two page form so you can do it by post. But they insist this is not a particularly onerous affair, particularly since teenagers are more digitally aware than some older voters.
'Further work'
Ministers also argue that there would be no need for the traditional public information campaigns that might be used for normal voter registration drives. They say that the EU referendum debate will be so prominent on the news and elsewhere that young voters will be well aware of their new right to take part. They note that many of Scotland's 16 and 17 year olds are already registered to vote.
They also point out that the Electoral Commission is softening its position. In its latest briefing for peers, the Commission says: "Recent media reports have indicated that the Commission believes there must be 12 months between legislation passing through Parliament to change the franchise and the first electoral event to which this applies.
"This is not the case. The Commission has been consistently clear that a change to the franchise is a matter for Parliament."
The Commission does emphasise what it calls the "significant further work" that would be needed if 16 and 17 year olds were included and the difficulties that would involve.
But it adds: "This does not mean, however, that other options are not available to help get as many voters as possible on the register in the available timeframe. Although the scale of the challenge presented by some of these options should not be underestimated - and it must be borne in mind that every voter is now required to register themselves individually - this does not mean that steps cannot be taken to reduce the risks presented by them with proper planning and funding."
Ministers cite the following possible timetable: if the EU referendum bill becomes law, say, in January with 16 and 17 year olds included in the franchise, and if David Cameron secures a renegotiation deal in the first quarter of next year, then ministers say it would be entirely possible for a referendum to be held in the autumn of 2016 with enough time for new voters to be registered.
So why are ministers arguing this? Well, they want to kill the idea that is growing among some eurosceptic MPs that all this registration complication might be a way of delaying the referendum.
Those campaigning to leave the EU tend to favour a late referendum to give them as much time as possible to develop their argument. And if enough eurosceptic MPs support the idea of 16 and 17 year olds getting a referendum vote, then the government might have trouble reversing the policy in the House of Commons next month. Once again, the government's small majority is making its influence felt.