Labour MP says Corbyn critics receiving 'vile abuse'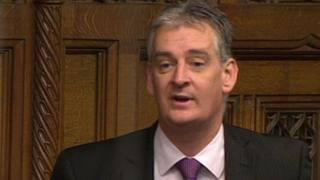 A Labour MP has claimed those who have defied the party leadership have been subject to "vile abuse and pure bile" from supporters of Jeremy Corbyn.
Graham Jones, the MP for Hyndburn, told the BBC Mr Corbyn's allies had "taken over" Labour but some of them had "unpleasant" political backgrounds.
He suggested the public had little "appetite" for Mr Corbyn's policies on welfare, the economy and immigration.
But a close ally of Mr Corbyn said "most mainstream" MPs supported him.
The Labour leader, who was elected with more than 60% of the vote in September, has urged MPs to respect his mandate as he has sought to consolidate his position by getting allies into key internal positions of influence within the party.
Mr Jones, who served as an opposition whip under Ed Miliband but quit when Mr Corbyn was elected, told BBC Radio 4's World at One that while he believed Mr Corbyn would lead Labour into the next general election, scheduled for 2020, the "jury was out" on his performance.
'Complacent'
He told the BBC's Becky Milligan he did not believe there was a "sweeping appetite" in the country as a whole for his policies, suggesting Labour had become "complacent" in its attitude to welfare and number of other issues.
"We have fallen to a degree into a complacency just thinking 'if they cut someone's welfare they are going to be poorer so we are going to oppose it' and I think that is too simplistic," he said.
"Are we just leaving people to a lifetime on benefits," he said. "Are we just subsidising employers through the tax credit system and does that still remain the best system?
Suggesting Labour lacked a policy to appeal to "socially conservative" Middle England, he said it must "stop turning our back on the debate" over immigration and its impact on communities outside of London.
'Loyalty'
The Lancashire MP was one of 21 MPs to defy the Labour leadership by abstaining on a vote on the government's fiscal rules last month, which commits the government to balance the books over the next three years and to secure a surplus by 2019-2020.
Insisting the opposition must be "more fiscally responsible" if it was to be treated seriously, he said he had no qualms about not toeing the party line since this is what Mr Corbyn had done hundreds of times during his 30 years as a backbencher.
"There is a lack of authority now because as you are asking somebody to do something you weren't prepared to do yourself," he said.
Mr Jones is one of a number of MPs to have expressed concerns about the purpose of Momentum, a new pressure group set up by backers of Mr Corbyn to advance its aims. Many of its backers paid £3 to become registered supporters of the party this summer just to vote for Mr Corbyn.
Reflecting on the personal attacks he suffered after defying the leadership in the vote, he said: "I think the party does have to be very careful. We are entering new territory with a broader membership base and supporters who have been drawn from some particularly unpleasant political spheres.
"We have got to be mindful that these people are first advised to desist or ultimately are removed from the membership."
'Disloyal'
He also suggested Mr Corbyn had shown poor judgement in including of Andrew Fisher in his circle of close advisers.
Mr Fisher, who is advising Mr Corbyn on policy, was suspended last week amid criticism of tweets he sent before May's election - including one urging people to vote for a Class War candidate, rather than the Labour candidate, in one south London constituency.
In "an ideal world", Mr Jones said, Mr Fisher would not be in the leader's office, suggesting the economist and former union official had been "exceedingly disloyal and exceedingly discourteous to some senior members of the Labour Party".
Mr Corbyn and his allies have rejected suggestions they could seek to deselect MPs who don't agree with him on the economy, Trident and other issues ahead of the next election, saying they want everyone to contribute to a debate on Labour's future and recognise there will be disagreements.
The Labour leader has stood by Mr Fisher, who has apologised for the Class War tweet, saying he has full confidence in him.
Richard Burgon, the shadow city minister, said Labour MPs should be concentrating their fire on the government over tax credits and other issues rather than "sniping" at each other.
"I don't believe there is a vile atmosphere," he told World at One.
"The good news is that most Labour MPs are behind Jeremy Corbyn. We need to be giving airtime to the vast majority of moderate, mainstream Labour MPs who support the democratically elected leader of the Labour Party."