Gordon Brown: Halt 'fundamentally flawed' tax credits cuts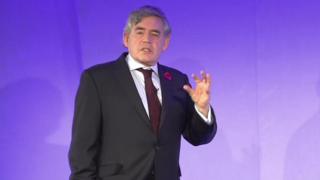 Gordon Brown has urged the government to abandon cuts to tax credits completely, warning that to press on would cause inequality to rise "faster than in any part of the Western world".
The ex-prime minister said the reforms were "fundamentally flawed" and ran "totally counter to British values".
And he defended the large increase in tax credits he presided over as chancellor, in his speech.
George Osborne is to announce revised proposals later this month.
The chancellor argues the bill for tax credits, an income supplement paid to millions of families - many of which are in work but on low incomes - ballooned by billions under the last Labour government and that it needs to be brought under control as part of £12bn overall cuts to welfare.
It is one of a series of measures the government has taken since Labour left office to, as David Cameron puts it, "sort out the mess" of the huge deficit left by Mr Brown's government.
'Undermining compassion'
But Mr Osborne is facing growing calls to change tack following a defeat in the House of Lords and amid concerns that plans to lower the threshold at which people can start to claim working tax credits, from £6,420 to £3,850 a year in April, will leave working families on average £1,300 worse off.
Mr Brown said the changes should be "abandoned in their entirety" if justice was to be done to the working poor and the "millions" of children in, or facing, poverty.
---
What are tax credits?
Tax credits are a series of benefits introduced by the last Labour government to help low-paid families. There are two types: Working Tax Credit (WTC) for those in work, and Child Tax Credit (CTC) for those with children.
Under the government's existing proposals, the income threshold for Working Tax Credits - £6,420 - would be cut to £3,850 a year from April.
In other words, as soon as someone earned £3,850, they would see their payments reduced. The income threshold for those only claiming CTCs would be cut from £16,105 to £12,125.
The rate at which those payments are cut would also get faster. Currently, for every £1 claimants earn above the threshold, they lose 41p. This is known as the taper rate. But from April, the taper rate would accelerate to 48p.
There would be similar reductions for those who claim work allowances under the new Universal Credit.
More on tax credits:
Tax credits, pensions and the generation game
Who will be the winners and losers?
---
He said that if the plans went ahead the numbers of children in poverty would "rise faster than at any time in the last 50 years" and "peak in 2020 at a level that is higher than at any time during the recessions of the 70s, 80s and 90s".
"And even if these reforms are massaged or they are phased in, they are so fundamentally wrong, that they will lead to a divided and more polarised society in Britain, with inequality rising faster than in any part of the Western world," he warned.
He said the government's proposals ran "totally counter to British values", as they would reduce incentives to work and undermine personal responsibility and "compassion" for children.
He also warned the chancellor not to seek to cut Universal Credit to pay for tax credit adjustments, and said: "You cannot repair a damaged policy when it is so fundamentally flawed."
Mr Brown's speech, his first major intervention in domestic politics since the general election, came on the day Parliament's cross-party Work and Pensions Committee urged Mr Osborne to postpone reforms for a year to enable debate about the future of working-age benefits.
Former Conservative Sir John Major has also joined the debate on how to tackle entrenched poverty and disparities in life chances by warning that levels of income inequality in Britain are "shocking".
In a speech on Tuesday, Sir John warned that some UK communities were "among the poorest in all Northern Europe".
While poverty would not be ended "by benefits alone", ministers "must understand how hard it is to escape from such circumstances" and have an "equal concentration on those who are failed by the system" as those who cheat it.