Corbyn aide Andrew Fisher suspended by Labour Party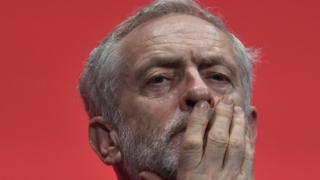 Jeremy Corbyn's senior policy adviser Andrew Fisher has been suspended from the Labour Party pending a report by its ruling body.
He had faced calls for his expulsion after suggesting people should back a Class War candidate in May's election instead of Labour's candidate.
Mr Fisher apologised but critics accused him of showing "contempt".
Mr Corbyn has said he still has "full confidence" in Mr Fisher amid reports the aide was still working for him.
Channel 4 News said Mr Fisher had been suspended for "administrative" reasons.
Labour former ministers Caroline Flint and Siobhain McDonagh, who complained about the tweet, said in a joint statement they were "pleased" the party was enforcing its rules.
They said they had been acting "on behalf of those hard working members who were offended by Mr Fisher's activities which included supporting a candidate against Labour".
Formal complaint
Mr Fisher's appointment is one of a number to Mr Corbyn's close circle that have proved controversial among Labour MPs.
The economist and former trade union official posted a tweet in August 2014, which has since been deleted, saying "if you live in Croydon South, vote with dignity, vote @campaignbeard" - the Twitter name of the Class War party candidate.
Class War, an anarchist group, has suggested that there is "no difference" between any of the Westminster parties.
Labour's official candidate in Croydon South, Emily Benn, granddaughter of Mr Corbyn's political mentor Tony Benn, lodged a formal complaint about the tweet.
Mr Fisher, who has deleted his Twitter account, also reportedly posted messages attacking former leader Ed Miliband's front bench and celebrating ex-shadow chancellor Ed Balls losing his seat at the general election.
---
Analysis by BBC Political Correspondent Iain Watson
In the world of Jeremy Corbyn's "new politics" Andrew Fisher is the type of person the leader would hope to attract to Labour's banner, as he tries to move party policy to the left.
Fisher wrote The Failed Experiment, which argued that governments had ceded too much power to private corporate interests.
Labour's rules are clear - members cannot urge support for rival candidates and the party's general secretary Iain McNicol was determined to ensure these applied even to his leader's favourites.
But in keeping faith with those on the left, and to the left, of Labour, Mr Corbyn risks a backlash amongst some long-standing members of the party who believe no-one should be above its constitution.
So tonight we have someone who is suspended from Labour advising its leader on its future policies. The uneasy truce between Corbyn supporters and most Labour MPs and party officials is under severe strain.
---
Mr Fisher wrote to Iain McNicol, general secretary of Labour's ruling National Executive Committee, to "completely and unreservedly" apologise for the Class War tweet, which he claimed had been "misinterpreted".
"I obviously do not and did not support Class War in any way, let alone in an election. I was and am committed to the election of a Labour government and a successful and united Labour Party," he said.
'Trotskyist'
However, some MPs have called on him to be disciplined, saying it was out of step with Mr Corbyn's call for a "new politics" free from personal insults.
Under Labour Party rules, a member who "joins and/or supports a political organisation other than an official Labour group or other unit of the party, or supports any candidate who stands against an official Labour candidate... shall automatically be ineligible to be or remain a party member".
But former Labour MP and London mayor Ken Livingstone tweeted: "Andrew Fisher obviously was not supporting Class War and has apologised in any case. That should have been the end of it."
In a separate tweet, he suggested the NEC should discipline Labour MPs Simon Danczuk and Frank Field, who have been critical of Mr Corybn's leadership, saying there should not be "one rule for staff and another for MPs".
Earlier in the week, at Prime Minister's Questions, David Cameron criticised Mr Corbyn's choice of policy adviser, branding the former union official a "Trotskyist".