UKIP conference: Inheritance tax pledge scrapped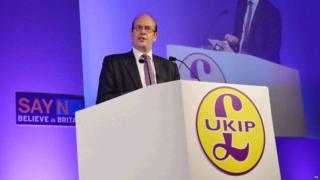 UKIP has reversed its position on abolishing inheritance tax, choosing instead to spend money saved from leaving the European Union on giving public sector workers a pay rise.
The party's head of policy Mark Reckless announced the change at its party conference in Doncaster.
He said it could allow five million workers to receive a 2% annual rise between now and 2019.
The government has extended its 1% pay cap for another four years.
The announcement is the first tax policy change since the general election and the first since Mr Reckless, the former Conservative MP who defected to UKIP last year, took charge of policy development.
In its 2015 manifesto, UKIP backed scrapping inheritance altogether.
But now it says it would spend £5.2m from the "economic dividend" secured by leaving the EU to reward million of low and middle income workers, whose pay has been first frozen and then capped since 2011.
Mr Reckless said it would give the professional pay review bodies the financial flexibility to recommend either a one-off 5% rise, over and above the 1% cap, or a 2% annual rise.
Workers earning more than £50,000 a year would be excluded.
"UKIP believes that all of Britain, including hard working public servants, deserves a pay rise," he said, adding that this was more of an "urgent priority" than helping homeowners pass on their estates tax free.
The policy is aimed at parts of the country with higher levels of public sector employment such as the north east of England and Wales. UKIP is hoping to win its first seats in Welsh Assembly elections next May.
All the main parties backed pay restraint in the last Parliament but the Lib Dems have called for the 1% cap to be lifted and Labour's position is in flux after Jeremy Corbyn's election as leader.
The government has said it will give pay review bodies greater flexibility to reward high-achieving teachers.