Nick Clegg - Lib Dems are 'comeback kids'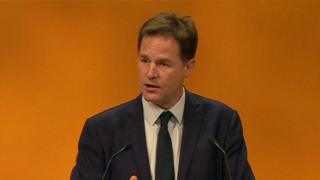 The Lib Dems can be the "comeback kids of British politics" following their general election thrashing, former leader Nick Clegg has said.
Mr Clegg, one of just eight Lib Dem MPs to retain their seat, told his party's conference it could occupy the centre ground vacated by Labour, now led by left-wing MP Jeremy Corbyn.
He also warned a vote to leave the EU could tear the United Kingdom apart.
And he told the BBC the result of the referendum "could very well be close".
Speaking on BBC Radio 4's The World at One, he said the public debates on immigration, welfare and Europe had become "conflated", which he said "created an unpredictable mix in people's reaction to our membership of the EU".
Standing ovation
Mr Clegg, who was replaced as Lib Dem leader by Tim Farron after the election, was given a standing ovation as he took to the stage at the party conference in Bournemouth.
"There is now a space in British politics for a great fightback for the most resilient political party in Britain," he said.
Despite the party's reduced size, he added: "We can be the comeback kids of British politics.
"It won't be easy, it won't be instant and there will be setbacks along the way.
"But we will bounce back."
BBC political correspondent Ross Hawkins, reporting from the Lib Dem conference, said not all party activists were as optimistic as Mr Clegg, with some fearing a centrist stance would struggle to attract attention.
Mr Farron is preparing to launch the party's campaign to stay in the EU in the vote expected next year.
On the EU debate, Mr Clegg said: "The stakes could not be higher: not just one, but two, unions now hang in the balance.
"If we vote to leave the EU, I have no doubt that the SNP will gleefully grab the opportunity to persuade the people of Scotland to leave the UK as well."
That would leave a "once great country now pulled apart", creating a "Little England" left isolated and lacking international influence, according to Mr Clegg.
"I have no doubt that David Cameron's referendum will be contested on the issue of jobs, economic security, the terms of any renegotiation and so on," he said.
"But there's a big, enduring question which hangs over all of this: what kind of country do we want to be, what is our role in this globalised world of ours? Open or closed?
"Leading in our own European backyard or isolated from our nearest neighbours?
"Because let's be clear: for all the huffing and puffing we're going to hear from those who want to leave the EU, they have no answer to that fundamental strategic question."
He urged Labour to wholeheartedly campaign for the UK to remain in the EU after the confusion of Jeremy Corbyn's first few days at Labour's helm.
'Home-builder'
Mr Farron has used his first conference as Lib Dem leader to launch what he called an "unashamed land grab" for Labour voters following Mr Corbyn's victory.
"I am not a home-wrecker for Labour MPs but I am a home-builder," he told activists.
He said they would be welcome to join what he claimed was the only "credible" alternative to Conservative rule.
He also made a "full and open offer" to members of all parties, including the Tories, who shared his values.
"If you are, in your heart, a liberal and a social democrat you have a home in the Liberal Democrats," he said.
The party claims it has attracted record numbers of activists to its annual conference, including many of the 20,000 people who have joined since the election.
Trident debate
Speaking on Radio 4's Today programme, Mr Farron said he would not "mischief make" and name MPs who he had spoken to, but said some were feeling "utterly bereft".
His suggestions were dismissed by Labour deputy leader Tom Watson, who told Today defecting from Labour to the Lib Dems "would be like leaving the Beatles to join a Bananarama tribute band".
"I don't see any Labour MPs - serious Labour MPs - who are going to defect to go to Tim Farron's party," he added.
The Lib Dem leader survived a challenge over defence policy as a conference motion calling for the Trident nuclear weapons system to be scrapped was voted down.
Instead, the party's nuclear policy will be decided by a working group.