Lib Dem ex-minister Jo Swinson 'mistaken for secretary'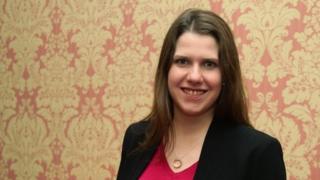 Former minister Jo Swinson has spoken of the "delicious" moment she was mistaken for a secretary by a senior government official.
The ex-Lib Dem MP, an equalities minister in the coalition government, was speaking about the difficulties faced by women in the workplace.
She said the official was mortified when he realised his mistake.
She also revealed that her then boss Vince Cable skipped a diversity training seminar she had set up.
Ms Swinson said she had set up a session for business department ministers and senior civil servants on avoiding "unconscious bias" in the workplace but that she was "the only minister that turned up".
The former MP, who lost her seat at May's general election, pushed through reforms allowing shared parental leave, seen as one of the biggest changes in employment law under the coalition.
State intervention
She spoke out against all-women shortlists at a Liberal Reform fringe meeting at the party's conference in Bournemouth.
But she argued that some state intervention and positive discrimination was needed to shift ingrained cultural attitudes, offering an insight into her own experience at the heart of government.
"I remember as a minister, when I was making a public appointment, the officer for public appointments was coming along to discuss who we were going to appoint to this position and the interview process," she said.
"And basically came into my office and talked to me with the clear assumption that he thought I was the secretary to the minister.
"It was wonderful - the look on his face when he realised his mistake."
'Tokenism' warning
Joshua Dixon. an LGBT rights campaigner and member of the Lib Dems' Federal Executive said the idea that the Lib Dems were the "real party of equality" was a "joke".
"Look at us, it is absolutely not the case," he told the meeting.
He said the party had to get its own house in order on diversity before lecturing others.
"I don't think there is appetite for change among many people in the party and that's what upsets me," he said. "And we really have to get a grip on that."
But Kavya Kaushik, of Liberal Reform and the party's Federal Executive, cautioned against quotas and other mechanisms for increasing diversity, saying she had experienced "tokenism" in the party.
Her views became more right wing and libertarian after being pushed into doing media appearances on subjects she knew nothing about, because she was "ethnic and a woman".
Sam Bowman, of the right-wing libertarian think tank the Adam Smith Institute, argued that social liberalism and the free market went hand-in-hand and there was no need for affirmative action.