Frank Field elected Work and Pensions Committee chairman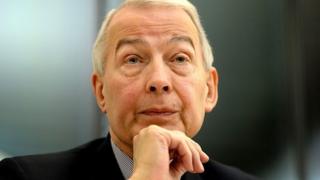 Former Labour welfare reform minister Frank Field has been elected as the new Work and Pensions Committee chairman.
He has been a vocal critic of the department's flagship Universal Credit scheme designed to streamline benefits.
The Defence Committee will be chaired by Tory Julian Lewis, an advocate of meeting the 2% defence spend target.
Labour's Meg Hillier is to chair the influential Public Accounts Committee, parliament's public spending watchdog, of which she used to be a member.
The elections for the select committee chairs were conducted via secret ballot of MPs.
Speaker John Bercow announced the results in the House of Commons during Thursday's business, informing MPs that 621 members took part.
Twelve of the 27 committee chairmen had already been elected unopposed.
The roles have been divided up between the political parties based on the results of the general election.
---
The results
Backbench Business Committee - Labour - Ian Mearns
Business, Innovation and Skills Committee - Labour - Iain Wright
Culture, Media and Sport Committee - Con - Jesse Norman
Defence Committee - Con - Julian Lewis
Education Committee - Con - Neil Carmichael
Environmental Audit Committee - Labour - Huw Irranca-Davies
Foreign Affairs Committee - Con - Crispin Blunt
Health Committee - Con - Sarah Wollaston
Home Affairs Committee - Labour - Keith Vaz
International Development Committee - Labour - Stephen Twigg
Justice Committee - Con - Robert Neill
Petitions Committee - Labour - Helen Jones
Public Accounts Committee - Labour - Meg Hillier
Science and Technology Committee - Con - Nicola Blackwood
Work and Pensions Committee - Labour - Frank Field
Labour MP Ian Mearns will take over the Backbench Business Committee, which allocates non-government time in the Commons for MPs to debate their chosen subjects.
This was previously headed by Labour's Natascha Engel who is now a deputy Commons Speaker.
Meanwhile, Keith Vaz stays on at the Home Affairs Committee despite a challenge from Fiona Mactaggart, as does Conservative Sarah Wollaston at health.
The elections are conducted using an "alternative vote" system, under which MPs rank their favourites in order of preference, with the first to get more than 50% of votes going through.
Some, like Public Accounts and Backbench Business, are reserved for the Opposition, but the rest are parcelled out in proportion to the parties' strength.
With the Conservatives now running a majority government, they take on the chairmanship of the Justice Committee, previously held by Lib Dem veteran Sir Alan Beith.
Meanwhile, the SNP - which is now the third largest party in the Commons - has been handed the Scottish Affairs and Energy and Climate Change.
Committee chairmen receive extra pay on top of their MP's salaries for doing the job.
Here is the list of the committee chairmen who were re-elected unopposed:
Clive Betts, Labour, Communities and Local Government
Angus McNeil, SNP, Energy and Climate Change
Neil Parish, Con, Environment, Food and Rural Affairs
Laurence Robertson, Con, Northern Ireland
Charles Walker, Con, Procedure
Bernard Jenkin, Con, Public Administration and Constitutional Affairs
Pete Wishart, SNP, Scottish Affairs
Kevin Barron, Lab, Standards
Louise Ellman, Lab, Transport
Andrew Tyrie, Con, Treasury
David TC Davies, Co, Welsh Affairs
Maria Miller, Con, Women and Equalities Committee.