Gordon Brown claimed £732 pen cartridges on expenses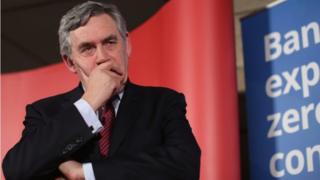 Gordon Brown spent £732 on pen cartridges before stepping down as an MP at the general election.
The former Labour prime minister bought 250 ink refill cartridges for a Cross Porous point pen in December 2014.
The claim came to light after the body overseeing MPs' pay began published MPs' expenses receipts after losing a freedom of information battle.
A spokesman for Mr Brown said he had "already volunteered" to return any unused refills.
Mr Brown stepped down as Kirkcaldy and Cowdenbeath MP in May, after a 32-year Commons career that saw him serve as chancellor and prime minister.
The expenses details have been published after the Independent Parliamentary Standards Authority (Ipsa) lost a Court of Appeal challenge against an order that it must release copies of receipts submitted by politicians.
It followed a Freedom of Information request by a Sunday Telegraph reporter.
The latest document - which is the first to be disclosed under FoI without a court order - showed that Mr Brown claimed £732 on expenses for the ink refills.
Mr Brown's spokesman said: "Because of his eyesight, after a series of operations on both eyes, Mr Brown uses special felt-tip pens for writing letters and notes.
"When his parliamentary office closes down on July 8, Mr Brown's office has already volunteered that it will return refills that have not been used by him or his staff."