Tory ministers need to 'speak their minds' on EU vote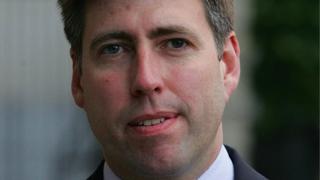 Tory ministers should be free to "speak their minds" about the future EU referendum, the chairman of the Conservative 1922 Committee has said.
Graham Brady urged PM David Cameron to declare now that the vote would be "a matter of conscience for ministers and backbench MPs alike".
It would allow a "mature and rational" debate on the EU vote, Mr Brady said.
No 10 has denied reports ministers may have to resign if they did not back any deal Mr Cameron reaches on the EU.
Writing in the Daily Telegraph, Mr Brady - chairman of the influential committee of backbench Conservative MPs - said the vote on European Union membership was a "totemic issue".
'A pressure release'
He said ministers must be free to speak their minds so the public knows they are "genuinely urging a course of action that they believe in - not advancing an argument because it is a condition of their continued ministerial office".
"Making it clear now that this freedom will be allowed at the end of the negotiations, will act as a pressure release and set the tone for a mature and rational debate," he wrote.
On Monday, Mr Cameron denied saying ministers would be forced to back him in the EU referendum or quit their jobs.
---
EU referendum in focus
David Cameron is starting renegotiation of the terms of Britain's EU membership ahead of a referendum. Here is some further reading on what it all means:
Q&A: The UK's planned EU referendum
The UK and the EU: Better off in or out?
What Britain wants from Europe
Timeline: EU referendum debate
---
He had told journalists everyone in government had "signed up" to his plans as set out in the Tory manifesto, which led to criticism from some Conservative MPs who said ministers should not be told how to vote.
Mr Cameron said his comments had been "misinterpreted" and that he had been calling for backing during the negotiations - not the vote itself.
On Tuesday, MPs voted 544 to 53 in favour of plans for a referendum on the UK's membership of the European Union.
The prime minister plans to renegotiate the UK's relationship with the EU ahead of an in/out referendum by 2017.