MPs issue children's costume fire safety call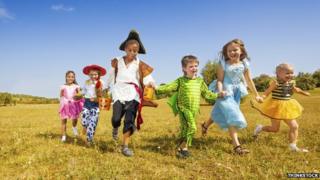 Children's fancy dress costumes should be subject to tougher fire safety regulations, MPs say.
A Parliamentary petition says classifying the outfits as clothing rather than toys would "significantly reduce the risk" of accidents.
The MPs say there has been an increase in the number of children hospitalised from costumes catching fire.
Legal flaws were highlighted in an investigation by the BBC's Watchdog last month.
The programme tested the flammability of several costumes bought on the High Street, "with shocking results".
'Proper testing'
The Early Day Motion, tabled by Labour MP Teresa Pearce, said under the current guidelines, children's costumes were "not necessarily fire-proofed or retardant".
It calls on the government to investigate the increase in accidents and to review "urgently" the classification of costumes so they undergo "proper flammability testing".
The Watchdog investigation came after the daughter of Strictly Come Dancing presenter Claudia Winkleman suffered serious burns in a Halloween costume fire.
Winkleman, whose surgeon called for changes to the law, described the incident in a BBC interview in the hope it would prevent more accidents.
She said she had bought the witch's costume in a local supermarket for "five quid" last October.
"I would like parents to - just on Halloween, just to think about what they're going to put their kids in because I didn't, and it cost us", she added.