Charles Kennedy in his own words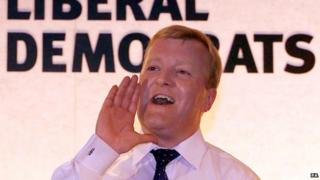 Charles Kennedy led his party to its best election result since the 1920s in 2005, when the Lib Dems won 62 seats, before resigning as leader after admitting a drink problem in 2006.
His 32 years as an MP ended last month when he lost his seat in the election.
The politician died at his home in Fort William, Scotland, aged 55 on Monday.
Here are some of his opinions.
---
On politics, from his 2001 book The Future of Politics
"Twenty years ago, it was still possible to find pubs where signs above the bar said 'No politics or religion', presumably because they were the two subjects most likely to cause a fight. Nowadays, you never see it, because either people don't discuss politics at all, or, if they do, it's conducted with such apathy that the chief danger is that the participants will fall asleep."
---
On the Iraq War
In 2003, he said: "There is genuine public perception that we are being bulldozed into a war not of our choosing and not - on the basis of the evidence so far - vital to national interests."
In the run-up to the invasion, he said: "Prime ministerial power was allowed to progress without sufficient checks and balances. Parliament was sidelined, the select committees muted, while collective cabinet government was a joke."
And in 2004, he said: "The government may have spun us into war, but it must not be allowed to spin and smear its way out."
---
On BBC Radio 4's Desert Island Discs
He chose a track of his father playing the fiddle as one of his Desert Island Discs, as well as David Bowie's Young Americans, saying: "Music has just been fundamental to everything about our daily lives."
He described having a "very rural upbringing" on a croft in the shadow of Ben Nevis. "I was never particularly attracted to the farming way of life, although ironically now I wax lyrical about where I live, which is that croft. It was a very happy, healthy upbringing, really."
He also admitted to being an amateur astronomer and owning his own telescope. He said: "The thing about telescopes is that rather like politics, you've got to make sure you're looking down the right end to get the desired result."
About being stranded on a desert island he said: "I'm quite good in my own company actually, but I suppose it's one of the curious features about life, doing what I do, you tend to be surrounded by people all the time - and that's fine, I like company - but equally I'm quite happy with solitude."
---
On Have I Got News For You
Known for his wit and sense of humour he regularly made appearances on the panel show Have I Got News For You, earning him the nickname 'Chatshow Charlie'.
He presented an episode in 2002 where he introduced the programme by saying: "My name's Charles Kennedy and tonight I'm in charge. People of Great Britain - get used to it."
After making a joke about George W. Bush, regular panellist Ian Hislop asked him: "What happens if you become prime minister and he rings up?" To which he replied: "It's unlikely... he would ring up."
When asked about why he decided to appear on the quiz show he said: "To be seen to be human, provided you're doing your job at the same time, is definitely not a negative, not at all."
In the House of Commons he once famously quipped: "Paddy Ashdown is the only party leader who's a trained killer. Although, to be fair, Mrs Thatcher was self-taught."
---
On stepping down as Lib Dem leader in 2006
"It is clear now, that such support is not reflected strongly enough across the parliamentary party in the House of Commons itself.
"In all of this the interests of the party have to come first. That is where my personal, political and constitutional duty lies."
---
On his drink problem, speaking in 2006
"Over the past 18 months I've been coming to terms with and seeking to cope with a drink problem, and I've come to learn through that process that a drink problem is a serious problem indeed.
"It's serious for yourself and it's serious for those around you. I've sought professional help and I believe today that this issue is essentially resolved.
"People close to me know that this has been a struggle and that for extended periods I've consumed no alcohol at all.
"As a matter of fact I've not had a drink for the past two months and I don't intend to in the future."
---
On the Lib Dem coalition with the Conservatives in 2010
In July 2010, expressing his doubts about the coalition government, he said: "I am keeping a monastic silence for now."
He also said: "With uncharacteristic understatement Paddy Ashdown described last week's events as 'a rather unexpected moment'.
"Certainly, they drive a strategic coach and horses through the long-nurtured 'realignment of the centre-left' to which leaders in the Liberal tradition, this one included, have all subscribed since the Jo Grimond era.
"It is hardly surprising that, for some of us at least, our political compass currently feels confused."
---
On his family
On the birth of his son Donald in 2005, he released a joint statement with his wife Sarah Gurling, which said: "It is wonderful for us both and we are extremely grateful for the superb clinical and midwifery support which we have received."
He took a few days off following the birth from the 2005 general election campaign and then returned with "a song in my heart and a spring in my step".
In September 2014, he said: "I am enjoying the Loch Ness monster exhibition with my nine-year-old son. I told him it's the world's most famous floating voter."
The couple's marriage ended in divorce in 2010.
---
On his 2015 election loss
"I am very fond of political history and tonight, if nothing else, we can all consider and reflect in years to come, perhaps tell our grandchildren, we were there on the night of the long skean dhus.
"The greatest privilege of my public life over these past 32 years has to be being entrusted with the responsibility of representing this constituency.
"That is thanks to a generation and more of voters who have extended that trust to me and I hope, looking back over those 32 years, they will feel that it was trust well placed."