Natascha Engel to become a deputy speaker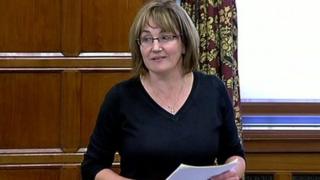 Labour MP Natascha Engel is to become a deputy Commons speaker after becoming one of just three MPs to be nominated for the three vacancies.
Ms Engel will join existing deputies Labour MP Lindsay Hoyle and Conservative Eleanor Laing.
The former Backbench Committee chair replaces Dawn Primarolo, who stepped down as an MP at the general election.
Nominations for the posts closed on Monday afternoon and MPs had been due to vote on Wednesday.
But only three names were put forward, meaning all MPs have to decide now is who becomes chairman of ways and means.
The high-profile role, which involves chairing the Budget statement, was held by Mr Hoyle in the last parliament.
Created in 2010, the influential Backbench Committee is responsible for scheduling non-government business on 35 days of each parliamentary term.
It was the first business committee of any kind to be established by the House and provides MPs with an opportunity to bring forward debates of their choice.