Fifa: David Cameron backs calls for Sepp Blatter to quit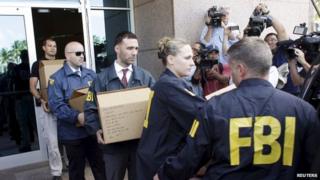 David Cameron supports calls for Sepp Blatter to quit as Fifa president, Downing Street has said.
The PM wants reform of world football's governing body, and supports calls for sponsors to reconsider their links with Fifa if Mr Blatter does not stand down.
Labour has suggested a rival tournament be set up if the bidding for the 2018 and 2022 World Cups is not reopened.
But Culture Secretary John Whittingdale said nations were not "yet at the stage of boycotting the World Cup".
Seven top Fifa officials were arrested in Zurich on Wednesday following a long-running FBI investigation.
Swiss authorities have simultaneously launched an inquiry into the bidding for the 2018 and 2022 World Cups.
Speaking at the opening of Fifa's congress in Zurich earlier, Mr Blatter said he knew "many people" held him responsible for issues including corruption - and said he must "find a way forward to fix things".
Mr Whittingdale said Fifa should be the "guardian of the world's most popular sport", not an organisation whose members "seek to profit personally from the passion of the game's fans".
"I fully support the Football Association's position that significant and wide-ranging reforms are urgently needed at the very top of Fifa, including a change in its leadership," he said.
He told the House of Commons the latest allegations of Fifa corruption were "far from surprising", but said it was "too soon" to decide whether the 2018 and 2022 World Cup bidding processes should be re-run.
Downing Street declined to call for the 2018 World Cup bidding process - which named Russia as tournament host - to be re-run.
Responding to a call for European nations to refuse to play in the 2018 World Cup, Mr Whittingdale said: "I don't think we're yet at the stage of boycotting the World Cup, which might cause concern to a large number of people who enjoy the World Cup, but there is no question that something has got to be done."
Asked if the home nations should withdraw from Fifa if Mr Blatter was re-elected as president, Mr Whittingdale said there were a "number of options" - including the "nuclear option" of withdrawing from Fifa - but these would have to be discussed after the Fifa election.
That vote is due to take place on Friday, though there have been calls for it to be postponed.
Speaking about his responsibility for preventing corruption, Mr Blatter said: "I cannot monitor everyone all of the time."
He said a "thin minority" of officials were corrupt, and they must be caught and held responsible.
"The next few months will not be easy for Fifa," he said.
"I am sure more bad news may follow, but it is necessary to begin to restore trust in our organisation.
"Let this be the turning point."
'Alternative competitions'
Labour's Chris Bryant, shadow culture, media and sport secretary, said: "Yesterday the whole world saw that beneath the mask the beautiful game has a very very ugly face. Can anyone be in any doubt at all that Fifa is rotten to the core and needs swift and wholesale reform?"
Speaking about the 2018 and 2022 World Cups, he added: "Should the bidding rounds not be reopened, and if not is it not time for the major football associations of the world to consider creating alternative competitions for those dates?"
The debate was sparked by an urgent question from Conservative MP Stephen Phillips.
Mr Phillips said it seemed "obvious to everyone except Sepp Blatter" that elections for a new Fifa president should not go ahead this week as planned.
Former Attorney General Lord Goldsmith, who was a member a committee set up by Fifa to look at possible reforms, said he had warned Fifa that if it did not "get its act together" someone else would come in and "take over".
"It's really game over for Fifa in that sense," he said. "They're going to have to hand back the ref's whistle."