Queen's Speech: Wind farm planning shake-up criticised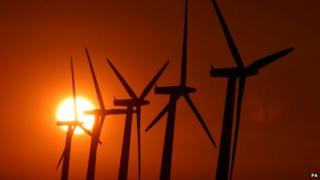 Energy firms have criticised proposals to give local authorities, rather than ministers, the final say over proposed new wind farms over a certain size.
Projects of more than 50 megawatts in England and Wales will no longer be referred to ministers for consent under plans in the Queen's Speech.
Renewable firms fear that the change will result in projects being bogged down in local planning battles.
But ministers said a more "democratic" system would "empower" communities.
The Conservatives pledged to give local authorities the final say over all onshore wind projects in their election manifesto, arguing that it should be for local communities, not Whitehall, to decide if and where developments are built.
The government said it would press ahead with the plan and has included it in a wide-ranging Energy Bill, one of 26 bills announced in its legislative programme for the next year.
'Final say'
The Bill would remove the need for the secretary of state for energy and climate change to approve the largest onshore wind farms, with powers being devolved to local planning authorities.
Energy Secretary Amber Rudd said the change would "empower" local communities.
"It's right that local people should have the power to decide whether they want a wind farm in their area, so we're devolving powers out of Whitehall," she wrote in a blog post.
"My existing consenting powers in relation to onshore wind will transfer to local planning authorities, making decisions on energy more democratic and giving our communities a direct say on these planning decisions."
The changes would not apply in Scotland and Northern Ireland, where different planning regulations apply.
The Conservatives have also committed to ending new subsidies for onshore wind farms, arguing that it is a mature technology.
'Reckless'
Speaking in the Commons on Wednesday, Prime Minister David Cameron said there had been a "massive" increase in investment in renewable energy in the past five years, making the UK the largest offshore wind market anywhere in the world.
"The last government grew our economy and cut our carbon emissions and this government will do the same," he said.
British Wind, a partnership of independent energy generators and suppliers, said policies towards onshore wind could have the combined effect of pushing up household energy bills.
"The cost of substituting more expensive alternative technologies in place of onshore wind would needlessly add several hundred million pounds every year to energy bills," said Ian Marchant, chairman of Infinis Energy.
Green Party MP Caroline Lucas said the Queen's Speech was "devoid" of plans to tackle climate change.
"Will he (David Cameron) reverse his reckless policies which are deepening our dependence on oil and gas and, instead, put our real resources into renewable energy and energy efficiency?"