Steve Hilton 'might run for London mayor'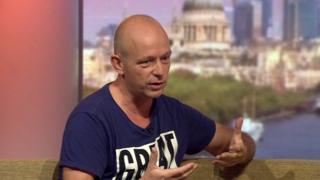 David Cameron's former strategy adviser Steve Hilton says he could run for office in the future - possibly to be London mayor.
Mr Hilton told 5 live's Pienaar's Politics he loved the idea of being able to "make a difference" and "help people live a better life" in a city.
He also said that if he never ran for office he would probably "regret it".
But he said anything would be a long way off, as he was focused on his job in California, running a tech company.
Mr Hilton, who left Downing Street in 2012, moved to California, where he has worked at Stanford University and become CEO of start-up firm Crowdpac.
Asked by John Pienaar if he would run for London mayor, he said: "The immediate answer to your question is I have got a day job in California which is being the CEO of a technology company and that's my focus and I love doing that.
"In the future, I definitely think it's true that - as my wife puts it - if I don't run for office at some point I will regret it."
As to what type of post he might go for, he said: "The only thing I would say is, of all the things that I really care about and where I have got experience that might be useful, the set of issues that a mayor deals with feels like the right place for me to concentrate."
Asked if that would be in London or Manchester, where a new mayor is set to get wide ranging powers, he said: "Certainly not Manchester because I have no connection there."
"It's a long way off, if it happens, so it would be completely presumptuous to speculate. But I do love the idea of being able to make a difference in a concentrated place, to help people live a better life in a city."
The current mayor of London is the Conservative Boris Johnson. He is stepping down at the next election, after two terms, in 2016.