Chuka Umunna to run for Labour leader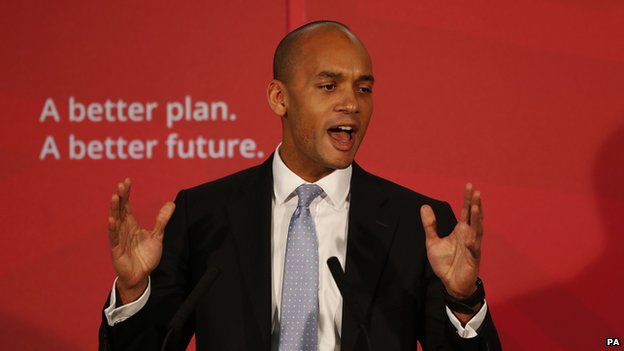 Labour MP Chuka Umunna has said he is running to become leader of the party.
He made the announcement by posting a video on Facebook as he met activists in Swindon.
The Streatham MP and shadow business secretary is the second candidate to formally declare in the race to succeed Ed Miliband, who quit last week.
He said he had spoken to around 40 Labour candidates who lost out to Conservatives in target seats at the election before deciding to stand.
Liz Kendall has already thrown her hat into the ring to become opposition leader while Yvette Cooper, Andy Burnham and Tristram Hunt are all seen as potential candidates.
On Facebook, Mr Umunna said Labour should be winning all over the country and rejected suggestions that it could take a decade for the party to get back into power.
"I think we can and should be winning in seats like Swindon," he said. "North, south, east, west - we can absolutely do it as a party."
Mr Umunna has suggested Labour failed to fully reach out to middle-income voters during the election campaign, a criticism echoed by senior figures on the right of the party including Alistair Darling and Lord Mandelson.
The unmarried 36-year-old Streatham MP entered Parliament in 2010 after a career as a solicitor for a City law firm.
The son of a Nigerian businessman, who settled in the UK, he was privately educated at St Dunstan's College, in south London, and studied law at Manchester University.
His father Bennett returned to Nigeria to embark on a political career, as an anti-corruption crusader, but died in a road accident in 1992.
In an interview with the BBC's Iain Watson, Mr Umunna said Labour had to become the party of "aspiration" again and to persuade people it will back the "wealth creators" and those who "make the effort".
The shadow business secretary said: "I think Ed was too hard on himself by saying that all the responsibility for the general election rested with him. I don't think it did. I think it was a collective failure on the front team, so to speak."
He said the party had to address the aspirations of people "all the way up the income chain," adding: "I think at times we did not get that across strong enough."
"With the Labour Party the clue is in the name, we are about good, fulfilling work for those who put in the effort.
"But of course you can't be pro-jobs and pro that work unless you're backing the wealth creators that create those jobs. Although we had a policy agenda that was, of course, going to help the wealth creators, sometimes people didn't get that impression."
Labour is expected to set out the timetable for the leadership election on Wednesday.
Speaking shortly before Mr Umunna made his announcement, Ms Kendall - who is shadow care minister - said she felt it was "maybe time" that Labour had a female leader.
"People like Margaret Beckett and Harriet Harman have been the acting leaders of their party, they have blazed a trail," she told BBC Radio 4's Woman's Hour. "People might think I'm a bit biased in this, but I think it's maybe time that Labour had a woman leader."