Afzal Amin resigns as Conservative candidate in Dudley North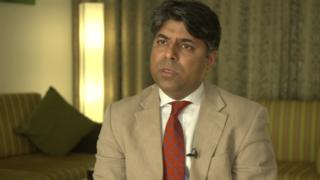 A Conservative suspended from the party over claims he plotted with the English Defence League has resigned as an election candidate.
Afzal Amin was accused of attempting to form a plot with the EDL in which they would announce a march in the Dudley North constituency and he would take credit when it was scrapped.
Mr Amin had denied any wrongdoing
He had said he planned to make a "robust defence" of his actions at a party hearing on Tuesday.
Norman Smith, the BBC's assistant political editor, said the party hopes to have a new candidate in place by the weekend.
A Conservative spokesman said: "Afzal Amin is resigning as Conservative candidate for Dudley North with immediate effect.
"Conservative Chairman Grant Shapps has welcomed Mr Amin's decision and thanked him for his work in the past."
'Conflict resolution'
The marginal seat of Dudley North is currently held by Labour's Ian Austin with a majority of 649.
The Mail on Sunday alleged that secretly-filmed footage, obtained by former EDL leader Tommy Robinson, showed Mr Amin promising to be an "unshakeable ally" for the EDL in Parliament and to help bring their views to the mainstream.
Mr Amin said the allegations were "an inaccurate picture of the reality" and told the BBC his idea would have been a "catalyst to bring people together".
He said tensions in Dudley had increased over plans for a new mosque, prompting him to speak with Muslim leaders and EDL members, including Tommy Robinson.
Speaking on Sunday, former Army officer Mr Amin said his actions had been "very normal conflict resolution, confidence building measures".
Stage-manage
He told BBC Radio 4's Today programme: "If people do announce that they are going to do an action, and other people disagree with it, then they sit together and they resolve their differences and the action is then stopped; then this helps the communities feel that 'yes, on the other side there is a working partner we can work with'.
"That's what we were trying to stage-manage."
Former EDL leader Tommy Robinson, however, said Mr Amin had sought to "use" the organisation and he suggested the EDL went along with the idea to "expose" Mr Amin.
A senior Conservative had said earlier on Monday that Mr Amin was likely to be removed from the party within days.
'Dithered'
The source said it would be hard to justify talks with the EDL, that Mr Amin was likely to be gone within 48 hours and a replacement could be chosen by the weekend.
Jon Ashworth, Labour's shadow cabinet office minister, said: "It's right that Afzal Amin has gone but what on earth took so long?
"Given the serious allegations involved it was obvious that David Cameron should have expelled him immediately, instead he dithered until the candidate himself jumped before he was pushed."
Les Jones, a Conservative councillor in Dudley, told BBC Radio 4's PM programme that he felt "relief" at Mr Amin's decision.
"I think he should have made this decision immediately", Mr Jones said. "The evidence from those tapes was irrefutable and it was never going to end well."