UKIP in turmoil over general election candidates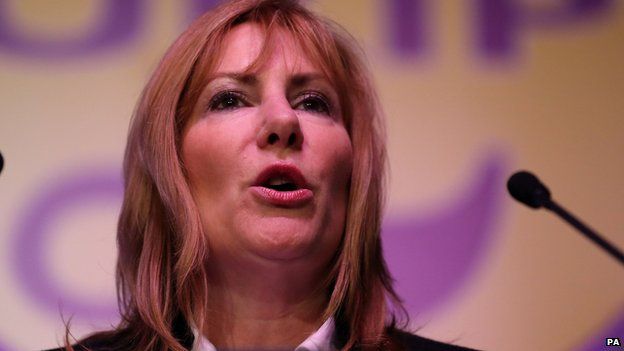 UKIP is facing claims it is in disarray after two election candidates were suspended and a third stood down.
MEP and general election candidate Janice Atkinson was suspended over allegations that a member of her staff tried to overcharge EU expenses.
Stephen Howd was suspended after harassment allegations were made against him, which he denies.
Jonathan Stanley quit claiming there was "open racism and sanctimonious bullying" within the party.
Mr Stanley, who was due to stand for UKIP in Westmorland and Lonsdale at the general election, told his local newspaper: "I have given my full resignation to the party because of issues happening in Scotland: open racism and sanctimonious bullying within the party.
"This sectarian racist filth in Scotland needs cleaning up. It is a great threat to the Eurosceptic cause and civil society."
A UKIP spokesman said: "We are treating Mr Stanley's comments with the incredulity they deserve.
"Mr Stanley and the party have been drifting apart politically for some time and his resignation comes as no surprise to us. However, we wish him all the best for the future."
UKIP leader Nigel Farage said he was "astonished" by the claims about Janice Atkinson, adding that "it looks very bad - it couldn't look worse".
He told the BBC a disciplinary hearing would be held "early next week".
Ms Atkinson has not responded to requests for comment.
The Sun newspaper published a secret recording appearing to show Ms Atkinson's chief of staff, Christine Hewitt, speaking to the manager of a restaurant in Margate, Kent, before UKIP's spring conference.
In the footage, she appears to ask for an invoice for a much higher sum than the bill she had received.
UKIP was quick to stress that Ms Atkinson was no longer its general election candidate in Folkestone and Hythe, where Conservative MP Damian Collins is defending a majority of 10,122.
Kent police said they were looking into an allegation of fraud against a member of staff employed by Ms Atkinson.
In a separate development, UKIP suspended Stephen Howd, its prospective parliamentary candidate for Scunthorpe, while an investigation takes place into an "alleged incident at his workplace".
In a statement, Mr Howd, a barrister, said: "Allegations of harassment have been made against me. The allegations are contested.
"They are now the subject of tribunal proceedings and, as such, the matter is sub judice and it would not be appropriate for me to make any further comment."
A spokesman for the barristers' regulator, the Bar Standards Board (BSB), said: "We can confirm that a complaint has been received about Mr Howd and that misconduct charges have been served in relation to this. We cannot comment further at this point."
UKIP's political rivals were quick to seize on the party's latest woes.
Prime Minister David Cameron claimed it was "just the latest in a whole set of catastrophic blunders, disasters, mis-steps by this party".
Shadow minister Jon Trickett, for Labour, said: "Two UKIP candidates have been suspended and one has resigned in just 24 hours, clearly Nigel Farage's party are in disarray.
"Beneath their ramshackle political operation, they offer nothing to working people because they are too busy picking up the pieces over their shambolic candidates."