Budget 2015: Reaction in quotes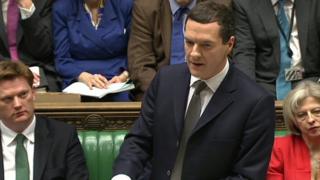 Chancellor George Osborne claims his final Budget before the general election is a "budget for Britain - the comeback country."
He told MPs: "We took difficult decisions in the teeth of opposition and it worked. Britain is walking tall again.
"Five years ago, our economy had suffered a collapse greater than almost any country.
"Today, I can confirm: in the last year we have grown faster than any other major advanced economy in the world."
What have others made of his announcements?
---
Labour leader Ed Miliband
"Never has the gap between the chancellor's rhetoric and the reality of people's lives been greater. This is a budget people won't believe from a government that is not on their side - because of their record, because of their instinct, because of their plans for the future."
---
Shadow chancellor Ed Balls
"People's living standards are lower than in 2010, people are worse off, people are still struggling and in the wider economy our export performance has been poor, our business investment has been weak and yet George Osborne seemed to say it was all fine. I thought it was a bit out of touch with reality."
---
Lib Dem Chief Secretary to the Treasury Danny Alexander
"Where we differ from the Conservatives - and that will become very clear tomorrow - is that we don't believe you can deal with this deficit problem simply by cutting public spending. Many of our public services are already under a lot of pressure so we will be arguing for a different mix."
---
UKIP leader Nigel Farage
"This government has evidently failed in its promise to the British people to eradicate the deficit and whilst it took Labour 13 years to double the debt this government has done it in five. Mr Osborne talks about a long-term economic plan, today he pushed all his targets back and created a long grass economic plan."
---
SNP deputy leader Stewart Hosie
"Today George Osborne could have delivered a budget focused on delivering economic growth by tackling inequality. He has not - he has decided to continue with his utterly failed austerity agenda."
---
Green Party leader Natalie Bennett
"This final coalition budget offers little hope to the many millions of people across Britain who are struggling to get by. Austerity economics has failed. Incomes are still lower than they were in 2010, household debt is up and inequality continues to plague this country."
---
Plaid Cymru Treasury spokesman Jonathan Edwards
"This was a 'jam tomorrow' budget from a chancellor who is busy sharpening the axe ready for the next parliament. The pre-election giveaways designed to pander to the Tory core vote mask the reality that in the next Parliament, our public services are set to suffer billions more austerity cuts supported by Labour."
---
DUP leader Peter Robinson
"The budget won't make much difference. From a Northern Ireland point of view, there is very little - we're talking about single digit figures - of a difference in our public expenditure that we would receive."
---
London Mayor Boris Johnson
"The commitments made by the government today shout very loudly and clearly that they fully understand the extraordinary potential of London, and that they share our goal of ensuring the capital remains fit to power the UK economy for decades to come."
---
John Cridland, Confederation of British Industry
"Stability and consistency are what businesses need to grow and prosper. This budget sets the tone, providing a clear plan for fiscal health and growth. It has some encouraging measures to help businesses create jobs for the benefit of all. The brighter fiscal picture has allowed the chancellor to recalibrate his deficit reduction plans. In the next parliament this fiscal breathing space should be used to achieve intelligent reductions in public spending, together with much-needed infrastructure and innovation."
---
Frances O'Grady, TUC general secretary
"The chancellor's Britain, where happy people skip to their secure jobs to celebrate their rising living standards, is not one that many will recognise. But it's what he did not say that is most significant. He did not spell out where, if re-elected, he will make the huge spending cuts he plans for the next parliament, nor did he tell Britain's low-paid workers which of their benefits he will cut."
---
Robert Chote, Office for Budgetary Responsibility
"One important consequence of all of this is that implied public services spending is on a roller coaster profile through the next parliament, with deeper real cuts in the second and third years than we've seen to date, followed by the sharpest increase for a decade in the fifth. It's important to emphasis that this profile arises from what the government itself describes as a fiscal assumption and not from firm and detailed departmental plans. But it will form the baseline for whichever party or parties are in government after the election and have to carry out the next multi-year spending review. This profile for implied public services spending may have ticked a number of boxes for this budget, but it will not have made that task any easier."
---
John Allan, Federation of Small Businesses chairman
"Our members will be encouraged by many of today's announcements. The review into business rates is long overdue. When complete, it must deliver tangible benefits to businesses and not end up as just another report that sits on the shelf."
---
Paul Johnson, Institute for Fiscal Studies
"Not much will change over the next couple of years. But the chancellor has reserved substantially what might happen in the long run. He says that austerity could be stopped in the years 2018-19. It's theoretical, as it four or five years down the line. But it's an indication of the future direction."
---
David Sparks, chairman of the Local Government Association
"This budget has acknowledged the need for changes to the way public services are funded and delivered and for more of the important decisions to be made closer to the people who use them. But it has not protected funding or delivered the bold approach to English devolution which will be essential to the survival of our libraries, children's centres, parks and local buses in the next few years."
---
Tony Dolphin, IPPR chief economist
"The OBR forecasts that household debt will soar to a record 171 per cent of income by 2019, surpassing the 168 per cent peak in 2008. This is more plausible than its export and investment forecasts, though it would require a change in trend from the last few years, when the debt ratio has been moving slightly downward. But this would be a highly undesirable outcome: that households could have more debt, relative to income, by the end of the decade than they had when the financial crisis hit."
---
Fiona Weir, chief executive of single parent campaign group Gingerbread
"Increasing the personal tax allowance will be of little help to those struggling on the lowest incomes. For people already earning too little to pay tax it makes no difference, while those on universal credit will see any increase in take home pay offset through reductions to their benefits - losing 65p for every extra pound they get in take home pay."
---
Matthew Reed, chief executive of The Children's Society
"However much the government talks about growth, significant cuts to welfare over the last five years mean that huge numbers of families — both working and non-working — continue to miss out. The chancellor talks about us all being 'in it together', but the reality is strikingly different for hundreds of thousands of struggling families. With extra money available to the chancellor, it is hugely disappointing that the government has yet again failed to make extra funding available to protect children from sexual abuse and to create a register of missing children."
---
Richard Hawkes, chairman of the Care and Support Alliance
"We are disappointed that there is no extra funding for social care in the budget. The care system is on its knees and there is an urgent need to protect both health and social care funding."
---
Dave Prentis, Unison leader
"For five years of pain, there appears to be very little gain on offer today for ordinary workers. With more money than expected at his disposal, the chancellor could have called time on the government's damaging austerity policies."
---
David Powell, Friends of the Earth's senior economics campaigner
"With growing calls to divest from fossil fuels, massive tax breaks aimed at squeezing more gas and oil out of the ground show how dangerously out of touch the chancellor is on climate change. The chancellor should heed the Bank of England's warning about the threat climate change poses to our financial well-being by ditching support for gas and oil extraction - instead of propping it up."
---
David Nussbaum, chief executive of the WWF
"Opportunity knocked but the chancellor only partially opened the door to greener, smarter growth. Backing for Swansea's new tidal lagoon recognises that clean energy is an essential part of our future. But a greener budget would have sent a much clearer message that dirty fuels need to be phased out, rather than offering them tax breaks."
---
Mark Beatson, chief economist for the CIPD
"The government is right to cheer the rise in employment, but there are still some big questions that they have failed to answer on productivity. There still isn't a clear, coherent plan for productivity and, once again, skills are falling through the cracks. Unless we address the UK's skills challenges, any short-term gains in the economy will be dashed by productivity shortfalls in the long-term."
---
Howard Cox, FairFuelUK Campaign founder
"Today's budget is very welcome that fuel duty has been frozen again. FairFuelUK has campaigned relentlessly to show that lower pump prices and in particular cutting duty stimulates GDP, generates new jobs and lowers inflation. But why doesn't the government go further and drive the UK economy continually upwards by cutting duty."
---
Jonathan Isaby, chief executive TaxPayers' Alliance
"Not for the first time, the chancellor has delivered a mixed bag of measures while glossing over the shocking state of the public finances. There were far too many politically motivated commitments designed for easy headlines, when the challenge is not to spend money in marginal constituencies but to save it. However, taxpayers will welcome the package of tax cuts on income, duties and savings which will leave more money in people's pockets and reduce the cost of living."
---
Terry Scuoler, chief executive of the EEF manufacturers' organisation
"The chancellor gets three cheers from manufacturers for the measures he's included to boost exporters. His decision to bring forward compensation for industries facing vast and uncompetitive energy costs, such as steelmakers, is a huge vote of confidence for them and for manufacturing more widely. In addition, he has committed to a stable and competitive tax regime, which we wholeheartedly support."
---
Brian Murphy, Mortgage Advice Bureau
"The new ISA is a welcome innovation - but the fact that different rules and timescales exist for the various elements of Help to Buy has the potential to cause confusion, and first time buyers will want to understand how they work in tandem."
---
Barnado's Chief Executive Javed Khan
"We're disappointed that the chancellor has chosen to combat in-work poverty with tax changes that benefit higher earners three times more than the poor. Struggling working families will see precious little from the tax change."