Labour to consider fewer Trident nuclear submarines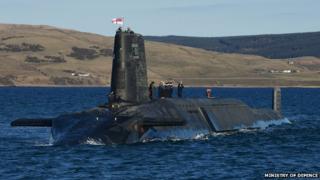 A Labour government would consider reducing the number of UK nuclear submarines from four to three, shadow chancellor Ed Balls has said.
Mr Balls said the party was committed to renewing Trident and would look at whether the nuclear deterrent could be provided with one submarine fewer.
A decision on whether to replace all four Vanguard-class submarines, which carry the Trident missiles, is expected to be taken in 2016.
They are due to be replaced from 2028.
Mr Balls told BBC Radio 5 live that providing Trident and offering the greatest value for money did not necessarily mean having four submarines.
He said the next strategic defence review would look at ways to make savings in the procurement process.
"If I'm going to government [then] I'm going to challenge the strategic defence review to answer that question in the toughest way - that if it turns out the only way strategically to deliver continuous at sea is four boats, then absolutely we will have four boats," he said.
"But my job is to ask those questions and therefore we're going to challenge to see whether there's any way you could do it with three rather than four.
"I think many of the experts think in the end not, but it's a good thing for us to do, to ask the difficult questions."
Labour's support for maintaining the nuclear deterrent could be an obstacle to any post-election deal with the Scottish National Party, which wants to scrap the nuclear weapons system.
Defence spending
On the BBC's Andrew Marr Show, neither the Chancellor George Osborne nor Mr Balls would commit categorically to sticking to Nato's target that 2% of national income, or gross domestic product, should be spent on defence in future.
Mr Osborne said he had made "big commitments in the future to grow the defence budget", including spending "£160bn on the latest aircraft, submarines and equipment for our fighting forces".
"The right time to decide your defence budget is when you have a strategic defence review and you make an assessment of what Britain needs to pursue its foreign policy interest around the globe," he said.
Mr Balls said his party would "not have defence cuts as deep as the Tories" and they would "continue to invest [in the armed forces]".
But when asked whether he would keep the defence spend at 2%, he said: "I can't sign up now to a commitment until we've opened the books and done a strategic review.
"But I can promise you this, the Tories are the extreme ones on spending cuts and I will not follow them down that road."
Last week, MPs approved a backbench motion calling for the UK to spend at least 2% of national income on defence.
Of the 28 countries in Nato, just four, including Britain, meet Nato's 2% target.