UKIP's Nigel Farage offers post-election deal with Tories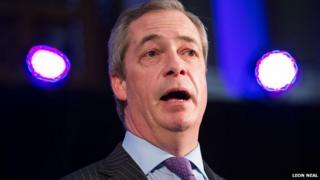 UKIP would do a post-election deal with a potential minority Conservative government if there is an EU referendum in 2015, Nigel Farage has said.
In extracts from his memoirs in the Daily Telegraph, the UKIP leader ruled out a formal coalition, saying voters would see it as "selling out".
But he said he would agree to a pact to prop up a Tory government in return for an EU referendum before Christmas.
David Cameron has promised a referendum in 2017 if his party is elected.
In his new book, The Purple Revolution, which is being serialised by the Telegraph, Mr Farage issued the prime minister with a four-point ultimatum on Britain's position in Europe.
In exchange, he said UKIP would back a minority Conservative government on key votes such as the Budget.
A Tory/UKIP/DUP three-way deal was a "possible scenario" as UKIP and the DUP (Democratic Unionist Party) shared a Eurosceptic position, he added.
"UKIP and the Northern Irish would take a similar role to that of the Liberal Democrats now," he said.
"Now the party has moved on from its sectarian approach to issues, we have developed a mutual respect for each other," he said.
The DUP, which is currently the fourth largest party in the Commons with eight seats, has said an EU referendum would be a part of any deal it made in the event of a hung Parliament.
'No wiggle room'
The UKIP leader said the terms of his deal with the Tories would be "very precise and simple".
"I want a full and fair referendum to be held in 2015 to allow Britons to vote on being in or out of the European Union," he said.
He said the wording of the question put to voters was "hugely" important, and as a "starting point" proposed: "Do you wish to be a free, independent sovereign democracy?"
Under his plans for the referendum, the four million EU nationals living in Britain on foreign passports - including his German wife Kirsten - would not be allowed to vote.
He said he would demand strict spending limits on campaigning, and an ombudsman to "police coverage" of any referendum.
It would be possible to hold the referendum in 2015 "given that it only takes a few weeks to launch and organise a referendum," he said.
"There would be no wiggle room for 're-negotiation' somewhere down the line," he added.
Mr Farage went on to say that if Mr Cameron agreed to the terms, there was "no question that UKIP would not do a deal".
He said he did not want a seat in cabinet or a ministerial title because "apart from anything else, most of the people sitting around that cabinet table are ghastly".
While he admitted "a vast number of them (Tories) hate us and I dislike them", he said he could work with Conservative Chief Whip Michael Gove.
Asked about Mr Farage's comments, Conservative Chancellor George Osborne said any talk of a deal with UKIP was "total nonsense" but he would not categorically rule one out.
He said: "Voting for Nigel Farage makes Ed Miliband the likely prime minister and it means that instead of getting a referendum on Europe, we will get no referendum at all."
The prime minister has promised a vote on whether to sever ties with Brussels by the end of 2017 if he remains in No 10 after the general election.
He has faced some pressure from sections of the Tory party and the business community to hold an earlier vote.