Call for MP boundary review law change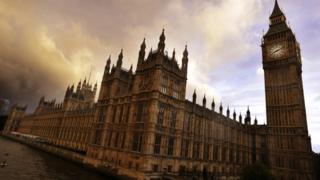 Rules that pave the way for the number of MPs to be reduced from 650 to 600 must be reversed, a parliamentary group has said.
The committee report said the case for fewer MPs had not been made and called for a change to the laws.
Plans to make constituencies roughly equal in size, resulting in fewer MPs, are set to resurface during a boundary review next year.
In 2013, the Liberal Democrats blocked proposals to redraw boundaries.
The coalition government had originally planned to put the changes in place before this year's general election.
Commons Political and Constitutional Reform Committee chairman Graham Allen urged the political parties to look carefully at the group's proposals.
"My objective was to work out some common ground that a non-partisan outsider would feel was fair," he said.
The committee recommended that demands for the number of voters in each seat to be within 5% of the UK average number of electors for a constituency are increased to 10%.
The Boundary Commissions of England, Scotland, Northern Ireland and Wales are required to recommend boundaries for 600 parliamentary constituencies by October 2018.
The changes will then be considered by Parliament, which will decide whether to approve the new boundaries ahead of the 2020 general election.