UKIP leader Nigel Farage: 'NHS almost killed me'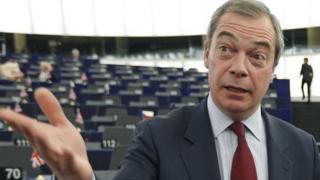 UKIP leader Nigel Farage claims he was "almost killed" by the National Health Service, and said people should pay for private health care if they can.
In extracts from his memoirs in the Daily Telegraph, he says he was "fobbed off" by NHS doctors who failed to spot his testicular cancer in his 20s.
He was later diagnosed with cancer after a scan at a private hospital.
The NHS was "astonishingly good" at critical care, but "battered and poorly run" in other areas, he said.
In his book The Purple Revolution: The Year That Changed Everything, Mr Farage has described going to see an NHS consultant about a swollen testicle when he was 21.
"To say that this consultant was disinterested would be an understatement; perhaps he had a round of golf booked for the afternoon. 'Keep taking the antibiotics,' he preached, and that was that," he writes.
'Better qualified'
"I have now had three near-death experiences - cancer, an accident and a plane crash - and I've seen the best and worst of the NHS. I am better qualified to criticise and defend our health care system than most politicians," he writes.
"When I had cancer, the incompetence and negligence of the NHS almost killed me, but it has also saved my life. I am certainly not taking any flak from gutless politicians who claim that I am no fan or supporter of the NHS."
The 50-year-old added that the combined effects of a serious car accident in his 20s, and a plane crash on the day of the 2010 election, had left him with the body of a 70-year-old.
After the air accident Mr Farage was told that he could be signed off as partially disabled, but he said that having a blue badge would be "conceding defeat".
The UKIP leader, who is a candidate in the general election in the South Thanet constituency, said last month that his party was "committed" to a free NHS paid for by taxes, and set out plans to spend an extra £3bn per year on the service.
The party has also said it would end hospital parking charges, give NHS staff a pay rise, and require overseas migrants to prove they have insurance cover on arrival in the UK to end what it calls "health tourism".
Labour has said UKIP has "longstanding support" for NHS privatisation.