Budget 2015: Police warning over leak risk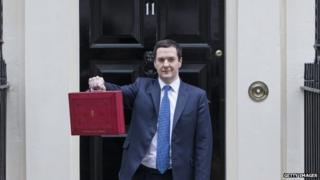 The top civil servant at the Treasury has warned staff he will not "hesitate to call in the police" if anyone leaks details from the Budget.
Sir Nicholas Macpherson has sent an email to officials reminding them he takes rules banning any pre-briefing of next week's Budget "very seriously".
He warned staff not to disclose details of changes to individual tax rates or economic and fiscal forecasts.
Pre-briefing was banned after much of the 2013 Budget came out by mistake.
The email, written in bold red type, reads: "It is now less than a week till the Budget.
"Please can I take this opportunity to remind you of the commitment the government has made to Parliament not to pre-brief the core of the Budget.
Budget tweets
"The 'core' includes the economic and fiscal projections, the fiscal judgement and individual tax rates, reliefs and allowances.
"I will take any breaking of the Budget pre-briefing rules very seriously: I will not hesitate to call in the police if that proves necessary.
"Best wishes, Nick"
The Treasury tightened up the rules about pre-briefing the Budget after much of the 2013 statement was revealed by mistake when the London Evening Standard tweeted some details before they had been announced to Parliament.
Sir Nicholas, the Treasury permanent secretary, carried out an investigation and ministers accepted his recommendation that pre-briefing should be banned.
A Treasury spokesman has refused to comment on the e-mail.