Ed Miliband responds to 'two kitchens' media furore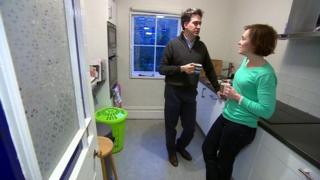 Ed Miliband has joked that his wife would like him to spend more time in the kitchen amid much discussion about their domestic arrangements.
It comes after he was filmed by the BBC with his wife Justine in an austere-looking kitchen in their London home.
It then emerged they have a second, bigger kitchen in the home, leading to claims he used the other to portray a more humble family life.
But the Labour leader insisted the smaller kitchen is the one they use.
He told the Birmingham Mail he was surprised by the level of interest in the culinary set-up in his £2m north London home.
The story has led to critics branding him "Two Kitchens Ed" - a play on the "Two Jags" nickname given to Labour's John Prescott over his apparent fondness for official luxury cars when he was deputy prime minister.
'Upstairs, downstairs'
Mr Miliband and his barrister wife, Justine, were filmed in their family home for a piece for BBC News.
The picture of the couple in the bare-looking kitchen drew sympathy from Daily Mail columnist, Sarah Vine, who mocked the "forlorn" room.
It was "devoid of colour or character" and resembled something from a communist housing project, Ms Vine, wife of Conservative chief whip Michael Gove, wrote.
But Jenni Russell - a Times columnist and friend of the Milibands - came to their defence, saying in a tweet that this was not in fact their kitchen, which she said was "lovely", but a "functional kitchenette" used for "tea and quick snacks".
Conservative MP Nigel Adams said it showed the Labour leader was "out of touch" with regular people.
"Clearly there's no cost of living crisis for 'Two Kitchens Miliband'. It's a bit rich lecturing people about poverty from his £2m mansion," he said.
'Vicious'
In an interview with the Birmingham Mail, Mr Miliband sought to defuse the speculation around his kitchen arrangements.
"The house we bought had a kitchen downstairs when we bought it. And it is not the one we use. We use the small one upstairs," he added.
And he quipped: "I think Justine would probably say she wishes I'd spend more time in the kitchen."
Pressed again on why he was pictured in the smaller of the two kitchens, Mr Miliband responded: "This is the kitchen Justine and I use."
Justine Miliband told the BBC earlier this week that she expected verbal attacks on her husband to become "really vicious, really personal" as the general election approaches.
But she said she was "up for the fight".