David Cameron rejects Russian Victory Day parade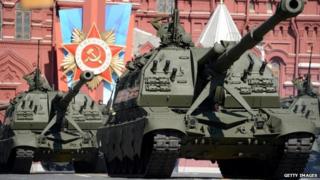 David Cameron will not attend Russia's World War Two commemorations in May if he remains prime minister, due to the country's actions in Ukraine.
The Victory Day parade to mark the Soviets' defeat of the Nazis will be held in Moscow's Red Square on 9 May, two days after the UK general election.
Downing Street said the PM would not be going due to the fallout between Russia and the West over the Ukraine conflict.
Pro-Russian rebels have been fighting Ukraine forces in eastern Ukraine.
In March last year Russia annexed Crimea, a move which drew international condemnation.
German Chancellor Angela Merkel will also miss the event.
Commenting on President Vladimir Putin's invitation, a No 10 spokeswoman said: "We will be considering our representation in light of our on-going discussions with Russia, our concerns about their activities.
"I don't think we have plans for the prime minister to attend but I'm sure we will set out who will represent the government in due course.
"I think we would consider our representation in light of our broader ongoing relationship with Russia and I think if you look recently there have not been ministerial visits.
"I think we will take that into account as we consider who attends."