Election 2015: Labour 'would put debates into law'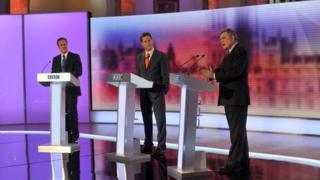 A future Labour government would legislate to ensure TV debates became a permanent feature of general elections, party leader Ed Miliband has said.
He told the Observer it was time "these debates belong to the people, not the prime minister of the day".
The prime minister says he will appear in just one debate, featuring at least seven party leaders, before March 30.
Broadcasters are proposing two seven-way debates and one head-to-head between Mr Cameron and Mr Miliband.
The Labour leader said the body that currently negotiates the terms of the debates should become a statutory trust, which would be responsible for determining the dates, format and attendees.
'Clear offer'
The prime minister has blamed the broadcasters for the failure to reach agreement, describing the negotiation process as "chaotic".
He has called first for the Green Party, and then the Democratic Unionists (DUP), to be included, and last week issued a "final offer" to broadcasters setting out his position.
The broadcasters then replied, saying the three planned debates would still go ahead, raising the prospect of Mr Cameron being "empty chaired".
Speaking on the BBC's Sunday Politics, Education Secretary Nicky Morgan said broadcasters had "made a real hash" of the process.
"They invited this party and that party," she said.
"The prime minister has made a very clear offer - get seven parties in the same place, have a 90-minute debate before the campaign starts.
"Otherwise all we are doing all the way through the campaign itself is talking about the debates."
---
Planned debate schedule
April 2: Seven-way debate featuring David Cameron, Ed Miliband, Nick Clegg, Nigel Farage, Nicola Sturgeon, Natalie Bennett and Leanne Wood (ITV broadcast)
April 16: Seven-way debate featuring David Cameron, Ed Miliband, Nick Clegg, Nigel Farage, Nicola Sturgeon, Natalie Bennett and Leanne Wood (BBC broadcast)
April 30: Head-to-head debate featuring David Cameron and Ed Miliband (Channel 4 and Sky News broadcast)
---
Labour's deputy labour leader Harriet Harman told Sky News Mr Cameron should "have the guts" to appear on the debates.
She said: "Let's have a legal framework set out and then we won't have this all over again next time round."
On the same programme, Liberal Democrat minister Lynne Featherstone repeated Deputy PM Nick Clegg's offer to stand in for the Prime Minister.
"If Cameron's not willing to do it, then Nick is up for it," she added.
Sky, the BBC, Channel 4 and ITV have invited the leaders of the Conservatives, Labour, Lib Dems, UKIP, SNP, Green Party of England and Wales and Plaid Cymru to take part.
MPs will get the chance to debate the matter on Wednesday in response to a motion tabled by the DUP.