Tories consider limiting child benefit to three children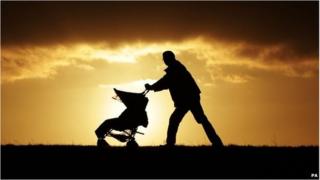 The Conservatives are considering limiting child benefit to three children, BBC Newsnight has learned.
The Treasury is "softening" to the idea and is examining the details, Newsnight political editor Allegra Stratton said.
It would save an estimated £300m a year - but Tory MP Dominic Raab said it was not purely about cost but could "send a message about personal responsibility".
Labour MP Dame Anne Begg said people did not have children for child benefit and asked "why pick on" large families.
Child benefit can be claimed by anyone responsible for a child under 16, or under 20 if the young person is in education or training - though since 2013 there have been restrictions for families where one parent earns more than £50,000 a year.
It currently pays £20.50 a week for a first or only child, then £13.55 for other children.
Not 'that far'
James Browne, of the Institute for Fiscal Studies, said the move would save about £300m a year.
But - with only children born after the rule change expected to be affected - he said it would "obviously take you about 18 years before you get that level of saving".
He said this meant the policy would not get the government "that far" towards its planned welfare spending cut of £12bn in the next parliament.
Mr Raab said the plan was "only under consideration" but the government would be "remiss" if it did not consider reforming child benefit, which he said accounted for about 10% of welfare spending.
"There is a much broader point than just the financial bean counting," he said.
"It's the kind of welfare system we want - do we want a social safety net or are we saying that welfare is somehow a lifestyle choice?
"And I think we do want the welfare system to send a message about personal responsibility, and yes that includes parents saving and taking some responsibility for the size of their family, making sure it's according to their means."
Dame Anne said: "I don't think you have a child because you're going to get an extra... £13.55 a week."
She added: "Only one in seven families have three or more children - it's a small number - so why pick on them?"
Work and Pensions Secretary Iain Duncan Smith previously proposed a two-child limit, but Chancellor George Osborne is understood to have rejected the idea for being too punitive.
Office for National Statistics figures suggest there were 7.5 million families in the UK in 2013, with an average of 1.7 children, and more than 320,000 families had four or more children.