Nick Clegg calls for 'Cornish Assembly'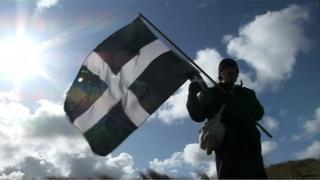 The Liberal Democrats say they would offer the people of Cornwall a legislative assembly which would get new powers to run local services.
The option of a Cornish Assembly, similar to the one in Wales, would be put to a referendum.
Campaigners in Cornwall have long called for greater self-government, akin to the Scottish Parliament.
Party leader Nick Clegg said the reform would mean housing, healthcare and transport decisions were taken locally.
The extent of devolution within England was brought into focus by last year's Scottish independence referendum, which triggered calls for more powers to be transferred out of London.
Labour has promised to devolve £30bn of funding over five years if it wins the election, calling the move "the biggest devolution of economic power and funding to England's city and county regions for generations".
Second homes
The Conservatives have vowed to expand the transfer of powers that have taken place under the coalition and to "oppose the imposition of artificial regional structures".
Last year the Liberal Democrats voted at their Spring conference in favour of a law-making Cornish Assembly, making it official party policy.
In a joint newspaper article on St Piran's Day, Mr Clegg and Jeremy Rowe, the party's leader on Cornwall Council, said that if the assembly was established, Cornwall could choose to have different rules to the rest of England in areas including second home ownership, academy schools and bus services.
BBC political correspondent Chris Mason said the Lib Dems were keen to stress they were "not in the process of creating more politicians", instead advocating forming the assembly out of the existing Cornwall Council.
The party would not confirm whether the policy would be non-negotiable in any coalition negotiations after the general election, he added.
"When the Cornish Assembly is born, it would be up to those who are elected to shape Cornwall's destiny." Mr Clegg and Mr Rowe said.
They gave examples of changes to right-to-buy rules and increasing council tax on second homes.
"But to build an even fairer society, Cornwall needs the power to make sure a young person can get into town without a car; that a new family can find somewhere to live in the area they grew up in; and that our ageing population gets the seamless care they deserve," they added.