Minister Nick Boles 'urges rethink' on benefit sanctions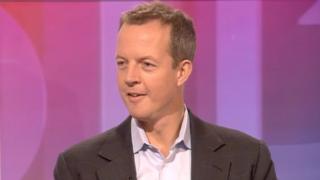 A Conservative minister has said there is an "inhuman inflexibility" to the way some welfare sanctions are applied.
Business Minister Nick Boles said the sanctions "do need to be looked at" and suggested a change after the election, the Grantham Journal reported.
The paper said the Grantham and Stamford MP had been speaking to volunteers from a homeless charity.
Mr Boles subsequently said he was a "strong advocate of benefit sanctions in principle and in practice".
The government says sanctions - which include stopping benefits for someone not deemed to be seeking work - are a "vital backstop" for the welfare system.
The measures, which apply to some Jobseeker's Allowance and Employment and Support Allowance claimants, are used in a "tiny minority" of cases, according to the Department for Work and Pensions.
Government review
But critics say they penalise some of the most vulnerable people and the Trussell Trust charity has said they are forcing a rising number of people to turn to food banks.
Last year the DWP agreed a series of reforms to the sanctions system after a government-commissioned review warned of significant inadequacies in official communications with claimants.
Mr Boles made the comments when he was given examples of people affected by sanctions, the Grantham Journal said.
"With some of these cases it seems to me that there is an inhuman inflexibility that is imposed on them," he reportedly said, adding: "The sanctions are a worry, and do need to be looked at."
He also reportedly said there was "not a lot we can do" before the election and that the start of the next Parliamentary term was "the best time to make a change".
However the prime minister's official spokesman indicated there would be no review of the sanctions system.
'Verbal slip'
The spokesman told journalists: "What I believe Nick Boles has said today is that he is a 'strong supporter of benefit sanctions both in principle and practice - those who can work, should work'.
"The prime minister entirely agrees with that."
David Cameron "thinks it's right that sanctions are imposed where people do not meet their responsibilities," he added.
Conservative Chief Whip Michael Gove acknowledged that the use of the term "inhuman" was "provocative".
But he told LBC Radio: "I don't think Nick's intention was to provoke and I think all of us can, from time to time, occasionally as we reach for the right word in order to show that we don't necessarily approve or support every aspect of a particular policy, we can sometimes make a verbal slip."