UKIP not probing candidate's 'Jihadi John' suicide tweet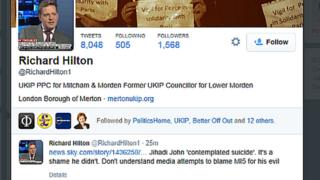 A UKIP parliamentary candidate who said "Jihadi John" should have killed himself is not facing a party probe.
Richard Hilton tweeted: "Jihadi John 'contemplated suicide'. It's a shame he didn't. Don't understand media attempts to blame MI5 for his evil".
A UKIP spokesman told the BBC on Sunday he had been reported to the party's national executive committee.
But the party has said no action had been taken against Mr Hilton and most people agreed with him.
On Sunday, a UKIP spokesman said neither the party nor Mr Hilton encourages suicide and as soon as Mr Hilton realised his tweet might be misconstrued he took it down.
He said the matter would be referred to UKIP's National Executive Committee (NEC).
'Holding' statement
Mr Hilton, a prospective parliamentary candidate for Mitcham and Morden, in South London, said he was not advocating suicide but he said the "world would be a better place" without "Jihadi John".
"I am gay and Islamic State are throwing gay people off roofs before stoning their bodies, so I am not going to apologise for wishing that Jihadi John and the murderous Islamic State were not around," he said.
Mr Hilton has since issued a further statement, following reports that he faced possible disciplinary action.
He said: "UKIP have confirmed that I was never referred to the NEC.
"Indeed as the party chairman Steve Crowther said, '98% of people agree with me'."
The party has said the original briefing to the BBC and other media outlets had been a "holding" statement issued by the UKIP press team and there was never any question of Mr Hilton getting into trouble for his Twitter message.
"Jihadi John" has been identified as Mohammed Emwazi, a Kuwaiti-born British man from west London.
According to a newspaper report, Emwazi said he felt like a "dead man walking" after being contacted by UK security services, and had considered suicide so he could "get away".
He made the claims in 2010 in email exchanges with a Mail on Sunday journalist, the paper says.
In recent months, he has been seen in several Islamic State videos where Western hostages have been beheaded.