Sir Malcolm Rifkind security committee role questioned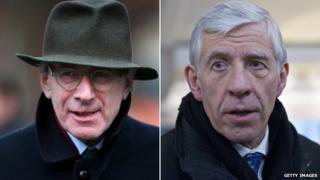 Sir Malcolm Rifkind is coming under pressure to step down as chairman of the Intelligence and Security Committee over "cash-for-access" claims.
His predecessor, ex-Labour MP Kim Howells, said the reputation of the committee - which meets on Tuesday morning - must not be "dragged down".
Sir Malcolm was secretly filmed apparently offering his services to a private firm for cash.
Sir Malcolm and the other MP in the affair, Jack Straw, deny wrongdoing.
BBC assistant political editor Norman Smith said there was "no disguising" the concern the investigations into Sir Malcolm were causing to some members of the intelligence and security committee.
He said that while Sir Malcolm's future "may well hinge" on the pre-scheduled meeting, a formal move to oust him was unlikely, with members expected to voice their views and leave it to Sir Malcolm to decide his fate.
'Sting operation'
Further claims about Labour's Jack Straw have been made in Tuesday's Daily Telegraph. The paper said he was set to take job with Lancashire-based furniture company Senator International, which it said won a £75m government contract after he privately lobbied a minister on its behalf.
Mr Straw told the Telegraph he had not been paid by Senator but acknowledged he had discussed joining its board when he stands down as an MP.
Senator chairman Colin Mustoe said Mr Straw had not assisted him in securing government contracts, adding: "As far as I'm concerned, he just acted well as a local MP, working with one of the biggest employers in his constituency."
Sir Malcolm and Mr Straw were filmed holding discussions over paid employment by reporters for the Daily Telegraph and Channel 4's Dispatches, who were posing as staff of a fake Chinese firm.
Both MPs have referred themselves to Parliament's standards watchdog and both deny breaching House of Commons rules.
Sir Malcolm, who is MP for Kensington, has said he would not stand down as security committee chairman, unless his colleagues wanted him to.
He pointed out that none of the matters raised in the newspaper sting was to do with intelligence or security.
However, in an interview with the BBC's Newsnight, Mr Howells said the committee - which oversees the work of Britain's intelligence and security agencies - cannot afford to be "dragged down" by the row because it is "too important".
And he warned that its reputation "isn't being improved when it looks as if the chair of the committee is the victim of a sting operation".
Asked if Sir Malcolm should resign, Mr Howells told Newsnight: "It's going to be very difficult for him, but the decision has got to be made by the committee."
He warned that "if the intelligence and security services are not properly overseen and accountable to parliament and the people, then all hell can break loose."
And he added that he was "a bit bewildered" that Sir Malcolm suggested he had the time to take on the role being offered by the undercover reporters because "the amount of reading on that committee is phenomenal, so much classified material comes across the desks of the ISC, and you have to read it in the offices of the ISC".
Potential loophole
Mr Straw has suspended himself from the Labour Party and the Tory whip has been withdrawn from Sir Malcolm, also a former foreign secretary.
Sir Malcolm is reported to have claimed he could arrange "useful access" to every British ambassador in the world.
He was recorded as saying: "I am self-employed - so nobody pays me a salary. I have to earn my income."
He said his usual fee for half a day's work was "somewhere in the region of £5,000 to £8,000".
He said he had never accepted an offer from the fake firm, saying it was a "preliminary" discussion "about what they had in mind".
He is paid £67,000 a year as an MP and he said telling the reporters he was not paid a salary was a "silly thing to say" although it was a reference "to my business interests, from none of which I receive a salary".
Blackburn MP Mr Straw, who has already announced his intention to stand down from Parliament in May, said he was "mortified" that he had fallen into the reporters' "trap" but that he had said nothing "improper".
During his 36 years as an MP he had been "absolutely scrupulous" about observing the rules, he said, adding that the entire discussion had been around what he would do after leaving Parliament.
It is claimed he was recorded describing how he operated "under the radar" and had used his influence to change EU rules on behalf of a firm which paid him £60,000 a year.
On the subject of payment, Mr Straw is heard saying: "So normally, if I'm doing a speech or something, it's £5,000 a day, that's what I charge."
After the story was published, Mr Straw confirmed he had taken on one consultancy role since his ministerial career ended in 2010, with commodity suppliers, ED&F Man (Holdings) Ltd, saying it was done in accordance with the MPs' Code of Conduct.
According to Tuesday's Daily Telegraph, Mr Straw's relationship with Senator International highlights a potential loophole in Parliamentary rules which allows MPs to "lobby" for companies they will later join.
But the paper reports Mr Straw as saying he helped Senator only because it employed a large number of people from his constituency and his involvement with the company was therefore "entirely appropriate".
A spokesman for Mr Straw is quoted by the Telegraph as saying: "The help which he provided was not in expectation of any employment or financial advantage but because Mr Straw was a constituency MP performing his parliamentary duties."