Election 2015: TV debate schedule announced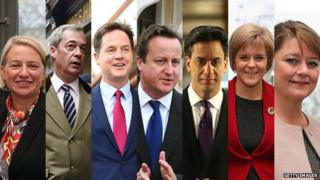 David Cameron and Ed Miliband will go head-to-head in a live TV debate a week before the general election, it has been announced.
The proposed showdown will be screened on 30 April on Sky News and Channel 4, broadcasters said, after drawing lots.
The BBC and ITV plan to stage debates involving the Conservatives, Labour, the Lib Dems, Green Party, UKIP, the SNP and Plaid Cymru.
ITV will host a debate on 2 April and the BBC's will be on 16 April.
Mr Cameron has yet to confirm whether he will take part in any or all of the debates ahead of the 7 May general election, having expressed concern at the exclusion of the Democratic Unionist Party from the format proposed by the broadcasters.
'Own minds'
However, the broadcasters have said the debates would go ahead regardless of whether any party leader refused to take part.
Labour's election strategy chief Douglas Alexander has written to Conservative party chairman Grant Shapps asking him to confirm whether Mr Cameron will take part in the TV debates.
"Failure to answer this question will lead many to conclude that you and Mr Cameron are reluctant to give the British people the chance to make up their own minds," he wrote in the letter.
The seven-party debate format was proposed after the broadcasters failed to reach agreement with the political parties over the original proposals, which only included the Conservatives, Labour, Lib Dems and UKIP.
Mr Cameron had previously refused to take part unless the Green Party were included, saying "all national parties" should be represented - prompting a political row and a rethink from the broadcasters.