The parties' proposals on childcare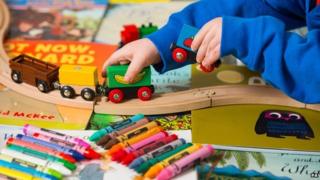 Britain's political parties are in a bidding war to attract the votes of working parents with pre-school children. So how do their different policies stack up?
What is currently on offer
All three and four-year olds in England are entitled to 570 hours of free early education or childcare a year, which works out as 15 hours each week for 38 weeks of the year.
Over the course of the latest Parliament, the coalition government expanded this to the most deprived two year olds.
The government has also said it would introduce a new scheme for tax-free childcare from autumn 2015, aimed at working parents earning less than £150,000 a year, and from September 2015 all parents on the new universal credit would be entitled to an 85% subsidy on childcare spending.
The government offers a list of possible providers of its free education and childcare. They include nursery schools, children's centres, some playgroups, childminders and Sure Start centres.
The proposals relating to universal credit and tax breaks would apply in England, Scotland and Wales.
The parties' proposals