Ed Balls writes to George Osborne over HSBC tax row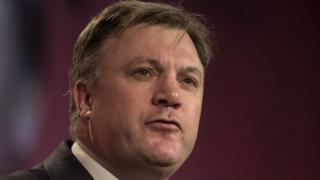 Shadow chancellor Ed Balls has stepped up pressure on George Osborne over the revelations about HSBC.
In a letter to the chancellor, Mr Balls poses five questions which he says "cannot continue to be ignored".
He has accused the chancellor of keeping quiet about revelations of alleged tax evasion by HSBC clients.
Treasury sources have indicated that Mr Osborne has done several interviews in the last few days, and that there is nothing new in Labour's letter.
It comes after allegations that HSBC's Swiss private bank may have helped wealthy clients avoid or evade tax.
HSBC published a full-page advert in several weekend papers containing an apology over the claims.
'Due diligence'
HM Revenue & Customs was given the leaked data in 2010 and has identified 1,100 people who had not paid their taxes.
One tax evader has been prosecuted, which has led Labour to question why the prosecution rate has been so low.
In his letter, the shadow chancellor asks Mr Osborne - who is currently in Brussels for talks on the eurozone crisis - whether "selective prosecutions" by HMRC were approved by the Treasury.
He also challenges Mr Osborne to say what action he took when he was first made aware of the files, and whether he had discussions with the prime minister.
He said a Downing Street spokesperson had claimed that "no government minister" had any knowledge of what happened at HSBC, but said HMRC chief executive Lin Homer had said ministers would have been informed.
Mr Balls also raises questions over ex-HSBC boss Lord Green's government appointment in his letter to Mr Osborne.
Lord Green, who used to run HSBC, was made a Conservative peer in 2010 and appointed as a trade minister eight months after HMRC received the leaked files.
He stepped down from a leading financial services body at the weekend, amid claims HSBC may have enabled tax avoidance when he was in charge.
Mr Balls has asked the chancellor to provide details of the "due diligence" carried out by the government ahead of his appointment.
He also questions whether Mr Osborne or David Cameron ever discussed what happened at HSBC with Lord Green, "or did you turn a blind eye?".
The UK's Treasury Committee is to conduct an inquiry into the claims about HSBC.
And HMRC met the police and the Serious Fraud Office this week to expand the scope of its investigation into Swiss tax accounts held with HSBC.