Ed Miliband: Rising intolerance causing real fears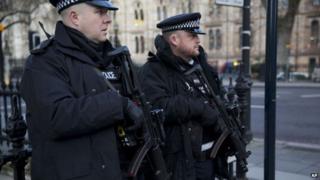 There are "real fears" among both Jewish and Muslim families about "rising intolerance" in Europe in the wake of the Paris and Copenhagen attacks, Ed Miliband has said.
He said Europe's leaders needed to respond to the issue with "unity".
The Labour leader also urged the government to work with social media companies to help counter extremism.
The British Jewish community have called for more protection, fearing copycat attacks on UK soil.
Mr Miliband's comments came after a gunman shot dead a film director at an event on free speech in Copenhagen and then killed a Jewish security guard at a synagogue.
The attack happened a month after fatal assaults by Islamist militants at the Paris office of magazine Charlie Hebdo, and a kosher supermarket in the French capital in January.
Hosting one of his People's Question Time events in Lincolnshire, Mr Miliband said the attacks would provoke fear among people of all backgrounds.
'Freedom of speech'
He said: "There is real fear among Jewish families, among Muslim families, among people from all backgrounds about the rising intolerance that people see.
"Now, we have got to recognise it. But, in my view, recognising it is not enough. I think Europe's leaders have got to show a unity of purpose in tackling these issues, because I don't think we can walk by on the other side when we see the kind of events we saw in Copenhagen.
"This was a free-speech event where people were attacked and people were killed. That goes to the heart of what we stand for as a country. Defending those rights to freedom of speech."
He said governments needed to work with social media companies to try to counter some of the extremist views shared online and prevent radicalisation.
"The freedom of social media is incredibly important, but we have to look at the ways we can counter this stuff online," he said.
Later, in a post on Facebook, the Labour leader noted that religiously motivated crimes had almost doubled in the UK in the past year, with "more attacks on synagogues and mosques, Jews and Muslims".
"We need to renew our vigilance and ensure every family of every faith can be secure in our country," he wrote.
"It means we need to work to build stronger communities that give no hiding place to violent ideologies that threaten us all."
Anti-Semitic crimes
The number of anti-Semitic incidents in the UK reached a record level last year, according to the Community Security Trust, which provides security for Britain's Jewish community.
It said in a report that the number of incidents had more than doubled to 1,168 in 2014 - the highest figure since the trust began monitoring in 1984.
In London, the home of the largest numbers of Jewish and Muslim Britons, police recorded 358 anti-Semitic crimes in 2014 and 611 anti-Muslim crimes during 2013-14.
Political leaders across the spectrum have raised concerns about rising anti-Semitism and anti-Muslim incidents.
Prime Minister David Cameron has pledged a "zero tolerance" approach to anti-Semitism, to ensure that the UK "remains a country that the Jewish people in Britain are proud to call home".
Deputy Prime Minister and Lib Dem leader Nick Clegg has said it is "terrible" that violence and discrimination against Jewish communities, and anti-Muslim hatred, "appear to be on the rise" in the UK.
Security was increased at synagogues and Jewish schools in the UK following the Paris attacks, amid "heightened concern" about risk to British Jews.
The UK's threat level remains severe, which means a terrorist attack is highly likely.